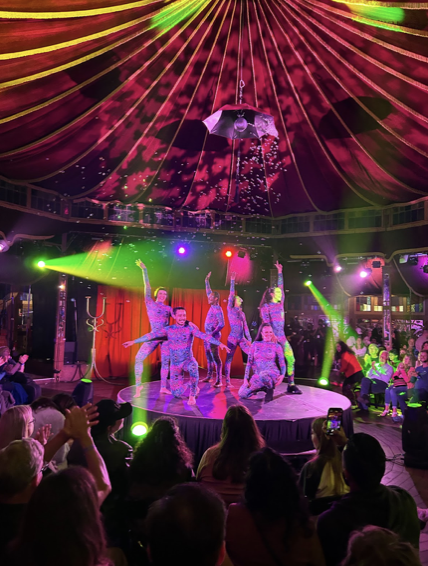 When most people think of the circus, they think of men dressed in clown costumes with red and white paint splattered across their faces. I, too, thought that way until Rochester Fringe Festival hosted traveling circus troupe, Circolumbia. In fact, there were no clowns at all. Instead, what the show Circolumbia: Corazón featured were stunning acrobatics and choreographed dances with Latin beats driving the show. 
The select group of six fabulously portrayed their Columbian culture in the Spiegeltent on September 21, 2023. Their unique and homemade Latin beats caused the crowd of Rochestarians to roar out with glee and surprise as they performed seemingly life-threatening tricks. Of course, the sheer amount of skill and practice were key roles in their night-to-night success. Even from the back row, I could see their muscles carved out in the strategic lighting. 
From the start of the 1 hour and 15-minute show, there was an eye-catching display of talent. I saw everything from tight-rope walking to mid-air performances, along with other musical based audience engagement. Specifically, one performance that captured my attention was a mid-air production where the aerialist showed off their immense strength with a hula-hoop tied to a rope. Naturally, the aerialist told an entertaining life story while hanging from the hula-hoop by their two feet. No part of this show left me bored—alternatively, it left me speechless and holding my breath as they swung from one side of the stage to the other.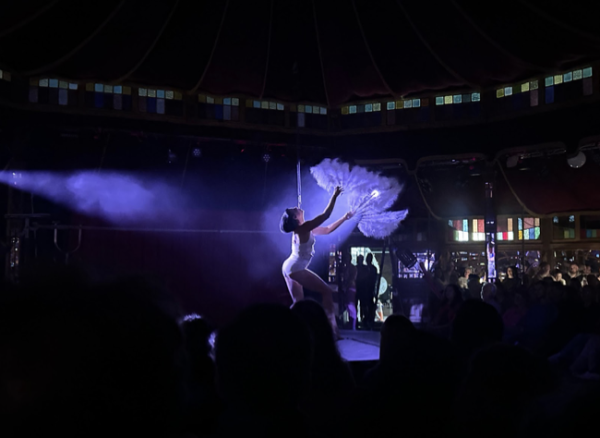 I have come to recognize the internal and external discipline that these performers have mastered and continue to practice. What could have been a simply good show was turned into a great one. Their passion was evident and wholesome. Additionally, the hardwork from the Fringe Festival crew did not go unnoticed – their contributions played an important role in the success that was Circolumbia: Corazón.