Cardinal Connection: Athlete Spotlight– Jake Baker
The St. John Fisher men's volleyball program is still fairly young– established in 2017 and didn't start playing until 2018– but the team has already experienced success. Back in 2022, it was a season of firsts for the Cardinals as they not only won their first United Volleyball Conference Championship but also made their first NCAA tournament appearance. The now-junior Jake Baker was an integral part of that winning team and still continues to be a force on the court for the Cardinals. I had the chance to ask him some questions about his time so far as a member of Fisher's volleyball squad.
Q: Tell me about yourself
A: I am from Burnt Hills, NY which is a small town near Albany; I played volleyball there for 5 years. I enjoy playing indoor and beach volleyball, and I also like to play guitar in my free time.
It was at Burnt Hills-Ballston Lake High School where Baker became the dominant player he is today. He was a starter on the varsity team for four years, was a captain in his senior campaign, and was named the Times Union Boys Volleyball Player of the Year twice in a row. Baker's serve and additional athletic ability paved the way for his success at the high school level, and now at the college level with Fisher. 
Q: What has been your favorite volleyball memory while playing at Fisher?
A: I think my favorite memory while playing volleyball here at Fisher was winning our conference championship last year. It was a great weekend and a very fun experience. It was very cool to be a part of a historic season for the program.
In that championship match, Fisher defeated SUNY New Paltz, 3-2. Baker was a key producer for the Cardinals, totaling 18 kills and two aces as well as seven digs and four blocks. It was a tough battle, but Fisher was able to come out on top and achieve their first men's volleyball championship.
 Q: What does being a part of Fisher's first United Volleyball Conference Championship team mean to you? Furthermore, describe your emotions during your NCAA appearance in 2022.
A: It means a lot as it was a very historical season. It was very cool to gain such experience and knowledge from winning the UVC tournament. Emotions were very high for everyone on our team in the NCAA tournament. It was very cool to be a part of an event like that, the whole trip was a lot of fun, and playing at that level can be nerve-racking, but everyone did a great job. It just didn't really go our way which was unfortunate because I believe we really could have made a great run.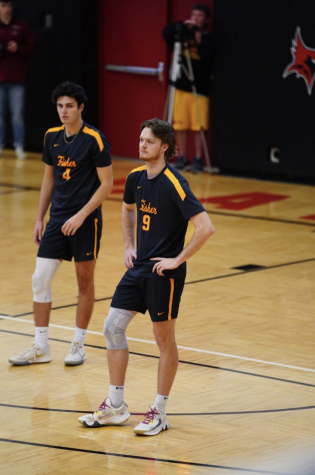 Following the UVC Championship, the Cardinals made their first appearance in the Division III NCAA Men's Volleyball Tournament. The team headed out to Golden Dome Arena, home of the Rutgers-Newark Scarlet Raiders to take on Wentworth Institute of Technology. Even in a 3-0 defeat, Baker still accumulated 13 kills and four blocks.
Q: When watching your team it seems like you guys have a lot of camaraderie with each other. How have you guys created good team chemistry?
A: We do have great team chemistry, and I think it starts off the court. We are all best friends off the court and hang out as a team almost every weekend. Even in the off-season, we will play beach or grass volleyball together. We are a very close group, but I feel like it's always been that way every year I have played here.
You can spot the men's volleyball team in the student section at various Fisher sporting events, often being the loudest fans. The team also has a presence on social media with their Instagram page. They have videos such as 'who on the team would you not let date your sister' or the 'best friends quiz' where Gabe LaRobardiere and Ian Rauh are asked questions to see 'if they really are BFFs.'
Q: With the men's volleyball program still being fairly new, do you see any challenges that come with that?
A: I think there are some in terms of how other teams view us. I think because we are so new other teams may not take us as seriously, thinking we just had one good year or maybe we just got lucky, so I think we get overlooked a lot as a program. I also think that can be an advantage, I like being the underdog and I think there is a lot of power in having nothing to lose. 
In comparison to the rest of the schools in the United Volleyball Conference, Fisher is the "new kid on the block." Most of the other teams started in the early 2000s and 2010s. Fisher's recent success is a testament to great coaching and the core of players they've developed. They are primed to continue their winning ways for years to come.
Q: How have your coaches and staff made an impact on your success on and off the court at Fisher?
A: The whole Fisher community has had a huge impact on our successes over the years. Our athletic department does a great job always making sure we have what we need, no questions asked, as well as the training staff making sure we are at our bests. The students who come to support us at our matches make a huge impact, they give us a lot of energy and it's always fun to be in that environment. Our coaches have done an amazing job at making sure we are prepared mentally and physically for each and every opponent and have sacrificed so much for us and this program so as a team we cannot thank Fisher enough.
It can be an uphill battle for a new program to see success, but it comes down to bringing in the right students on and off the court. Similar to the new wrestling program, Fisher has done a great job at finding the right staff for the men's volleyball team to ensure success for their student-athletes.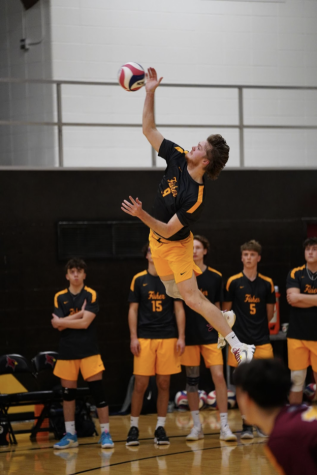 Q: What are your goals for the rest of your volleyball career at Fisher? 
A: I think I share the same goal as the rest of our team and that is to win a national championship. I think we have come so far in such a short amount of time, and it is more than possible to win a championship with all of the talent and heart we have as a team.
At the time of writing this, Fisher is well on their way to their fifth straight season above .500 with new coach Matt Cohen at the helm. Prior to Fisher, Cohen had a successful tenure with Saint Johns River State College including a conference championship back in 2021. With multiple players returning from the 2022 championship team and a coach with a winning pedigree, the Cardinals are poised to make another run. And as Baker said, hopefully win the national championship. 
Leave a Comment
Donate to Cardinal Courier
Your donation will support the student journalists of St. John Fisher University. Your contribution will allow us to purchase equipment and cover our annual website hosting costs.
About the Contributor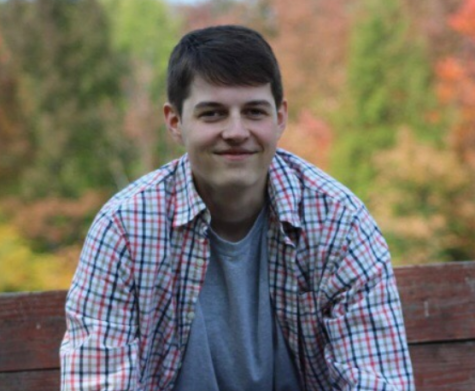 Nick Kehoe, Sports Editor
Nick Kehoe is a junior Sport Management major. He is currently the Sports Editor for the Courier. Nick also writes game recaps as well as student-athlete...