By Brooke Eastman '25, Staff Writer
If you're still looking for costume inspo for this Halloween, you've come to the right place. Here is a top 10 list of the most predicted trending costumes this 2021 season.
Squid Game
The new Korean Netflix original series was released in September of this year and has since then become the number 1 show in 94 countries. Netflix stated as of October 5, it is now the service's most-watched series yet. Whether you're looking to dress as your favorite player, a soldier, or the frontman himself, it is pretty easy to copy their look.  
https://www.google.com/aclk?sa=L&ai=DChcSEwiftLnI5dvzAhWLBogJHdT2DycYABAEGgJxbg&ae=2&sig=AOD64_2Q9n_b9u2q1HRPHASgDd_KihZJIA&q&adurl&ved=2ahUKEwiPmK7I5dvzAhUvUt8KHZIfBDsQ0Qx6BAgOEAE
WandaVision
The Marvel Disney+ series was released in January of this year and has a collection of outfits for all. Wanda Maximoff includes a series of ensembles such as her 50s sitcom outfit from the first episode, the groovy 70s dress, Wanda's very own costume from the Halloween episode, or most notably, her Scarlet Witch costume from the finale. Vision has his own looks to recreate as well; his Halloween costume, the White Vision suit, and his best-known default look from the Avengers. 
https://stylecaster.com/wandavision-halloween-costume/
Harley Quinn in "Suicide Squad"
With its already established popularity from the first film in 2016, Suicide Squad has been an annual hit for Halloween. With the release of its sequel this August, The Suicide Squad, specifically Harley Quinn, is likely to continue to be the choice of many this coming season.
https://www.yourtango.com/2021344508/best-diy-harley-quinn-costume-ideas-2021-suicide-squad-birds-prey-more
The Mandalorian
The Disney+ series has had quite an impact on Star Wars fans since its release. With options such as the infamous Baby Yoda (or Grogu), Luke Skywalker, Stormtroopers, Ahsoka Tano, or of course the Mandalorian himself, there are many ways to channel the force this season.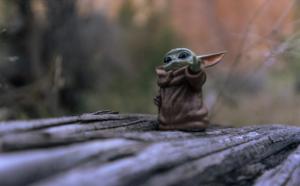 Cruella
The 2021 film based on the villain from the Disney classic "101 Dalmatians" has many fashionable looks to recreate. Whether you're looking to pay homage to the classic look of Cruella or glam it up as one of the more modern looks from the live-action film worn by Emma Stone, you are sure to look runway ready as one of the most glamorous villains. 
https://www.goodhousekeeping.com/holidays/halloween-ideas/a37015513/cruella-halloween-costume/
Black Widow
Another 2021 film with a great way to represent one of Marvel's female superheroes. You can dress as the traditional Black Widow, the new White Black Widow, or as her civilian persona, a spy and assassin named Natasha Romanoff. 
https://www.goodhousekeeping.com/holidays/halloween-ideas/a37216194/diy-black-widow-avengers-costume/
Space Jam: A New Legacy
The recreation of the 1996 classic starring Michael Jordan returned this summer starring NBA champion Lebron James. With the return of the iconic Looney Toons characters such as Bugs Bunny, Daffy Duck, Lola Bunny, Marvin Martian, the Tasmanian Devil as well as others from the cartoon, and some colorful newly designed jerseys, this is a great (and simple) modernized take on a classic. 
https://www.google.com/aclk?sa=L&ai=DChcSEwjRpPGc7tnzAhWY_rMKHeUhAR4YABAEGgJxbg&ae=2&sig=AOD64_0OsxkzfcSDX0UMlQrYWGgiyZ9GAg&q&adurl&ved=2ahUKEwio2eac7tnzAhVMVd8KHQcsD6oQ0Qx6BAgCEA
The Sanderson Sisters in "Hocus Pocus" 
The 1993 Halloween classic is a great costume for groups, but of course not necessary. The three witch sisters are known as Mary, Winifred, and Sarah Sanderson. Grab a couple of friends and some broomsticks to really bring the magic to life! (Bonus points if you have a black cat!)
https://www.shefinds.com/collections/hocus-pocus-halloween-costume/
Olivia Rodrigo from the "Good 4 U" music video
The actress from High School Musical: The Musical: The Series rose to fame this year on the music charts with her debut album, "Sour". With the release of her music video for her song "Good 4 U", many fans noticed the cheerleading uniform with black gloves the singer wore throughout the majority of the video. This eventually became somewhat of a symbol for the song and possibly Rodrigo herself. For a simple costume devoted to this generation's newest pop idol, this costume would definitely be "Good 4 U," pun intended. 
https://stylecaster.com/olivia-rodrigo-halloween-costumes/
Michael Myers
Last but not least, one of horror's biggest icons. With the release of the new movie "Halloween Kills" just a few weeks before Halloween, it makes sense to dress up as this beloved silent slasher. Given his prior popularity before the new film, it would be no surprise to see a few masks and jumpsuits walking around Halloween night. This is a simple look to recreate, yet still on the classically scary side of Halloween. 
https://costumewall.com/dress-like-michael-myers/
Whatever it is you decide to be, have a safe and Happy Halloween!