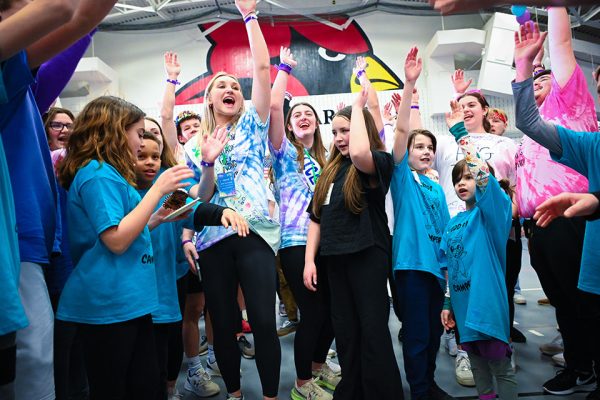 Woah Teddi! Woah is right, Teddi Dance for Love is a major deal here at St. John Fisher University's campus, as well as a very popular club. If you don't know what Teddi is… where have you been? Let's catch you up:
Teddi is a student-run club on campus that works diligently to put together the annual Teddi Dance for Love 24-hour danceathon. The dance and club was created over 40 years ago when former Fisher Football coach Gary Mervis' daughter, Teddi, passed away from cancer. Every year, Mervis and the Fisher community show how much they care about not only his daughter's legacy, but all of the legacies of the kids who attend Camp Good Days and Special Times.
In case you didn't know, the Teddi Dance for Love raises money for Camp Good Days, an organization for children and their families dealing with cancer and other life challenges. The club specifically raises money for the Teddi Project which sends a group of campers each year to Disney World. Unfortunately, due to COVID, the Florida trip has not happened in a few years. However, the trip is planned to resume this year and will be attended by Teddi 42 Chair, Emily Sullivan. 
"The Teddi Dance for Love is so much more than just a club," said Sullivan. "It truly makes a difference in the lives of others. I have had the opportunity to volunteer at Camp Good Days the past two summers and see how life-changing this camp is for the campers. I am honored to be able to lead this amazing organization & I cannot wait to see Teddi 42 come together this year." 
The Teddi 42 theme will be Candyland; "the sweetest one yet," according to their Instagram page. The theme was announced on Oct. 18 during a Teddi meeting, which takes place every Wednesday at 9:30 p.m. At these meetings, several departments and groups make up the united Teddi front. This consists of development, events and collaboration, event design, finance, FAST, marketing, outreach, programming, and registration. All of these departments come together each year to make the annual dance-athon spectacular not only for the students and foundations, but for the campers as well.
One department in Teddi that I wanted to learn more about was FAST, which stands for faculty, alumni, and staff team. I talked to one of the FAST captains, Catherine Crunden, about her team and what is new for them this year. According to Crunden, she and her co-captain "talk with staff and faculty to get them involved with different fundraiser events on campus. We also write a Teddi newsletter that we just started this year. This newsletter gets sent to alumni who want to stay in the loop with everything happening with the dance." 
When asked how she was feeling about Teddi 42, Crunden said, "We have had a great turnout at both of our committee meetings and fundraisers. For the 100-day celebration, there will be raffle baskets all day as well as haircuts and different social media challenges for giveaways." Every year the annual 100-day countdown consists of free haircuts to donate hair, so make sure you keep growing your hair Cardinals, you are almost there!
I hope you are all as excited as the Camp Good Days and Club Teddi members are for Teddi 42. Knowing how impressionable children can be, taking action for a cause like this can help make a difference in their lives. This year's countdown event and 100th day till Teddi is Nov. 1, 2023. Make sure to keep an eye out for all of the giveaways, fundraisers, and other ways to get involved with Teddi 42. This year's dance will be held Feb. 9-10, 2024 from 8 p.m. to 8 p.m. Hope to see you all there, Cardinals!