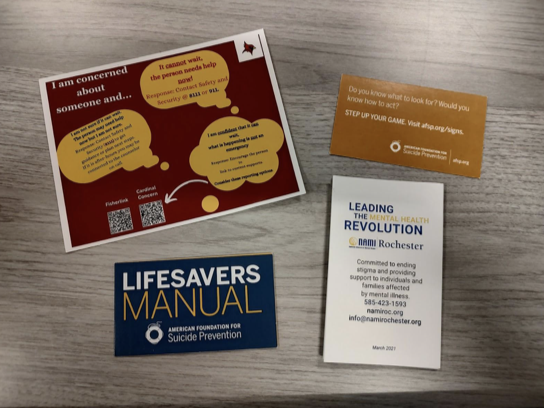 TW: This article discusses the topics of suicide and mental health challenges. 
---
"Suicide is a health issue and it's absolutely preventable."
On Oct. 10, I attended the "Talk Saves Lives" presentation, a discussion aimed to educate Fisher faculty on suicide prevention and mental health challenges. Throughout the presentation, faculty members learned how to identify students who may need extra support and ways to provide it to them. Presented by Health and Wellness director Becky Kieffer and Academic Student Support director Michelle Erklenz-Watts, this discussion is an important foundation for education about suicide prevention.
"This presentation can make sure that people have the resources they need to support students and anyone else on the campus," said Kieffer. "It offers the opportunity to give faculty the training to help students in distress." 
"It's about wanting to change the culture," said Erklenz-Watts. Creating an environment that prioritizes mental health is one of the first steps to preventing suicide. These environments lead to more people knowing that they can easily reach out for support and connect with others who may also be struggling. 
Throughout the discussion, faculty members were given background information on mental health and suicide. This became the groundwork to add education on suicide prevention and ways faculty members could identify students who may be struggling. An important aspect to discussing suicide prevention is the language used throughout. As mentioned in the presentation, choosing to use phrases such as "died by suicide" instead of "committed suicide" can have a positive effect on suicide prevention. Avoiding negative language can help struggling people feel more inclined to reach out to others.
Faculty members first learned the "warning signs" to spot students who might need support, including sudden mood changes or self-deprecating thoughts. These thoughts often manifest through students believing that they are worthless or that no one likes them. Once these warning signs are recognized, faculty members can apply what they learned to begin a conversation with the students. Asking a student if they need help or even directly asking, "are you considering ending your life?" are both ways that the topic of suicide can be brought up.
Faculty members were given resources to pass on to students, including crisis hotlines that focused on suicide and mental health. They practiced scenarios that involved identifying someone who may be struggling with their mental health and how to support them. These scenarios included the use of speech or actions aligned with the "warning signs" and opened the floor for suggestions on how to help. 
Resources are available for anyone who is struggling with mental health challenges. On-campus, students can visit the Health and Wellness center or schedule a counseling appointment on the SJF Patient Portal. Anyone is able to call or text 988 to reach the Suicide and Crisis hotline or text TALK to 741741 to reach the Crisis Text Line, both of which are available at any time. A Cardinal Concern can be filled out for anyone worried for the well-being of someone on-campus. More information on suicide prevention can be found on the website for the American Foundation for Suicide Prevention.
If you are interested in getting a group training in Talk Saves Lives, please reach out to the Health and Wellness center at [email protected]. The Health Center also has access to a brief, online suicide prevention training called "Question, Persuade, and Respond" (QPR). This training can be accessed for no cost at this time.
To access QPR, please follow these steps:
Access the

account page at

www.qprtraining.com/setup.php

.

Enter "SUNY" in the "Organization Code" field. (Note: Using "SUNY" as the organization code will provide free access to the training; without that code you will be prompted to pay.)

Create a free training account using your .edu email address.

Follow the instructions to complete the training.

Once completed, you will receive a printable/downloadable certificate.
For anyone struggling with mental health challenges, please know that there are people who can give you support and help. Please do not hesitate to reach out to the above resources or trusted others.