For many students, one person has cut their hair for their whole lives. Upon arriving at a new school and city, they may not know of a place to get a cut. One St. John Fisher student aspiring to open his own barbershop can help.
That student is senior Khalid Lockhart, who has been cutting hair on campus since his freshman year, but his journey as a barber starts much earlier. Lockhart hails from St. Croix, an island in the Caribbean. In his free time, he enjoys playing basketball, playing the drums, and of course, cutting hair. 
His introduction to cutting hair came from his father, who used to cut his hair as well as his brother's when they were younger. The quality of the haircuts, however, was beside the point, as Lockhart said with a smirk, "The haircuts were not top-tier, they were not great."
What really mattered to Lockhart was the influence his father had on him. Lockhart was eventually able to start practicing cutting his father's and his brother's hair. Much like his dad's barber skills, he admitted that these weren't the most amazing cuts at first. "It wasn't the best of haircuts, but I can't be mad at my dad because honestly, I would thank him to this day for practicing on our heads," Lockhart said. "If it wasn't for him doing that, I would never develop the interest and passion that I have today for my craft."
It was in 11th grade when he got his first opportunity to cut hair in a professional setting. Royalty Cuts Barbershop in St. Croix was where he gained experience and soaked in information from his fellow barbers. "[My boss] was a mentor to me along with the other barbers in the shop," Lockhart said. "In there, I would learn to take bits and pieces from every barber."Lockhart documented his progress on his Instagram account (clippertalk_khalo), which was what allowed him to connect with students.
He talked about how in the age of social media, it's common to exchange social media information when first meeting students. "Individuals saw the work that I used to post on my Instagram page and friends just started asking 'Yo, Khalid, you think you could give me a haircut? Khalid what's the best time I could come in for a shape-up?'"
At the time, freshmen weren't allowed to have cars on campus, as was the case for Lockhart. So, many students turned to him for a more convenient haircut. "To me, I was just thinking the more reps that I put up, the better I become," Lockhart said. "It was the perfect opportunity." He was able to provide free haircuts for students, but also improve and gain more confidence as a barber in the process.
In his humble beginnings as "the campus barber," Lockhart would often cut people's hair in their dorm bathrooms, or in his room. Since then, he now has a corner of his dorm room dedicated to cutting hair, complete with a barber chair and mirrors. "I just decided that I want to set up my dorm in a way that when individuals enter that particular space in my dorm, it feels as though they're in a real barbershop," Lockhart said.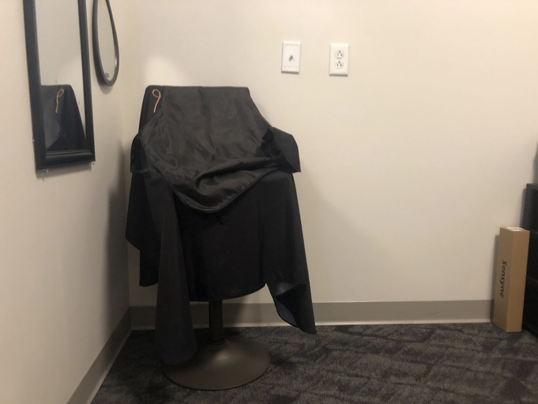 As his passion and skills as a barber have grown, Lockhart has his eyes set on the future. He dreams of one day having a barbershop of his own. Lockhart's future degree in marketing, as well as his participation in the American Marketing Association and Entrepreneurship Club, have helped him prepare to reach this goal. "One club that really helps me is the Entrepreneurship Club. We learn ways that entrepreneurs step into the business world, how to network, how to plan, how to create a business plan, how to finance a business, et cetera.," he said.
For Lockhart, his love for being a barber comes from the people. "Every person I talk to has a different story and personality," he said. He also likes seeing the before and after transformation of haircuts, with his favorite haircut being a taper fade.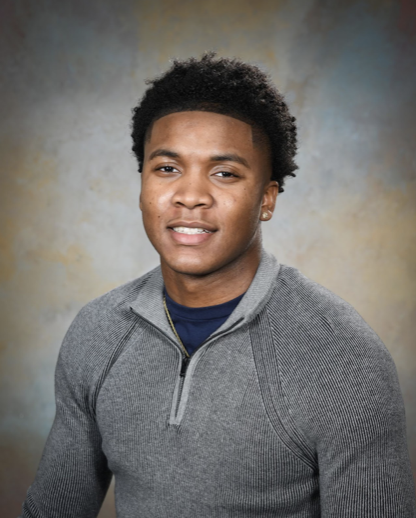 Lockhart has ultimately created an environment for students to feel welcome. His involvement in the Black Student Union and the Dean's Student Advisory Council have helped him create a sense of community in his hair styling profession. "When I give haircuts, it's like a therapy session. It's different conversations and it's a lot of new things being learned," he said. "DEI is very important in this world and it's just very important to bring everyone together as a community."
If you'd like to get a haircut from Khalid, you can contact him on his Instagram @clippertalk_khalo.