The Courage Bowl is one of the most anticipated events at St. John Fisher University. It is an annual game between SUNY Brockport and St. John Fisher, but its purpose is not just about declaring a winner. It's about Camp Good Days and the mission of their organization.
Camp Good Days aims to alleviate the hardship that comes with a cancer diagnosis for children and their families. They do this by offering camp programs and other opportunities for kids that are free of charge. At the Courage Bowl, campers are selected to be cheerleaders and coaches for the game. 
The Courage Bowl provides the chance for campers to be a part of a big football game. When speaking on the Courage Bowl and its purpose, junior defensive lineman Jaony Mercado said, "It hurts me that these kids won't be able to have the same opportunities as we do." He continued, "I want to do everything I can for those people to succeed."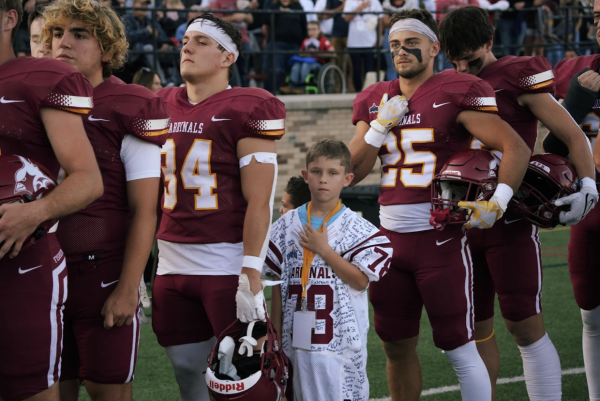 Upon entering Courage Bowl 18, there was a lot of buzz as fans and families filed into Growney Stadium through the North Entrance. While moving through the line, fans could make a donation of their choice to Camp Good Days and receive a Courage Bowl pin for doing so. Shirts, game programs, and other merchandise were also available. It was evident that this was, as expressed by many, much more than a game.
After the campers came back from the coin toss and the National Anthem was sung, it was time for football. Fisher got off to a slow start on a three-and-out and punted the ball away to Brockport. Junior running back Gino Fontanarosa was the main component on this drive rushing for 36 yards, and he would go on to have 92 yards in the contest. Senior tight end James Altenburger capped the drive off with a leaping grab over the head of a Fisher defender for a touchdown to make it 7-0 Brockport.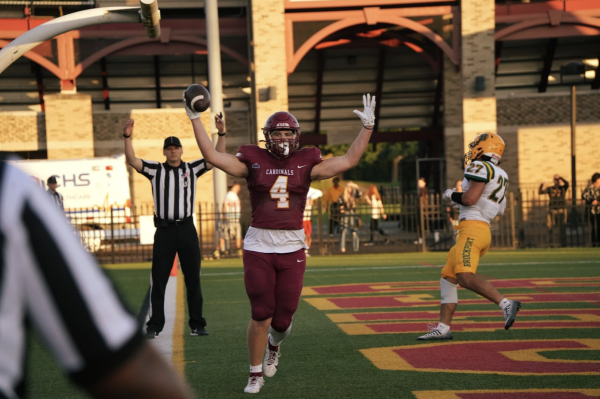 Following the touchdown for Brockport, the Fisher crowd woke up on a big 31-yard pass to Ethan Curtis, who has been instrumental thus far in the receiving game for the Cardinals, leading the team in receiving yards on the season. Fisher went back to the ground as quarterback Aaron Chase broke out for an 18-yard run, and then connected with a wide-open Declan Faery in the endzone. Kyle Farewell missed the extra point, however, and the score was 7-6 Brockport at this point. 
The rest of the first half belonged to Brockport. Following punts by both teams, Brockport quarterback Ben Gocella showed off his arm with a 26-yard pass to Jarin Rhim and he found Altenburger again with a 21-yard pass. The drive ended with freshman receiver Nolan Slywka swinging out to the left side for an easy one-yard touchdown to up the score to 14-6 Brockport. 
The mistakes started to show for Fisher as a holding call stalled out their next drive, then Chase threw his first of two interceptions. The Cardinals weren't playing their cleanest football, and Mercado added, "Brockport took advantage of the many opportunities we gave them." He also emphasized the impact that mistakes can have on the momentum of the game.
Following the interception, Altenburger had a big 23-yard catch with contact, as the sizable receivers were tough to take down for the Cardinal defense. Tyler Ronk caught a 21-yard pass at the sideline, and Fontanaros fought his way to the end zone as Brockport tacked on another seven points to make it 21-6. As time was expiring in the first half, the Cardinals took a shot on a Hail Mary thrown by Hunter Walsh, but it was to no avail as it was batted down and the clock expired.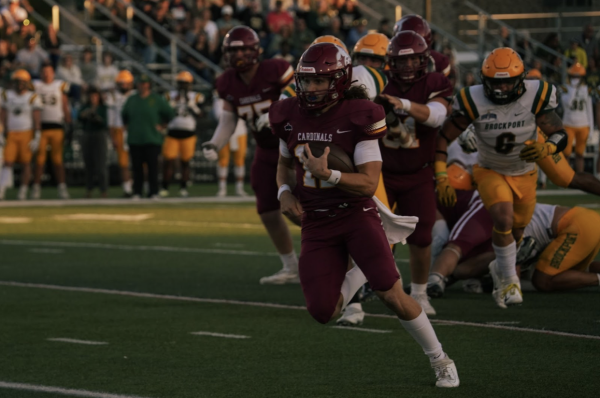 Although it wasn't the first half Coach Vosburgh and the Cardinals wanted to have, it was still anyone's game going into the second half. Fisher's first drive in the second half was much more conservative, but it paid off. It was a seven-minute, 13-play drive that featured a lot of Peyton Nolan who has been "Mr. Reliable" for the Cardinals this year. Chase then took matters into his own legs in this case, as he found paydirt on a nine-yard rushing touchdown. Fisher then tried to go for two to make up for the missed extra point from earlier, but they couldn't convert and it was 21-12 Brockport.
After the touchdown, Fisher started to get momentum back on their side as Jeremy Woodcock made a massive stop on Gocella, and Brockport was forced to punt. Fisher went back to the run formula interspersed with a 14-yard pass to Faery. The drive went into the fourth quarter, and Chase found Curtis for their first fourth down conversion of the drive on a 4th and 3 play. Chase then couldn't connect with Michael Escobar, which brought up a potential game-shifting 4th and 6 play. Chase was under pressure and threw his second interception of the game to a sea of Brockport defenders, much to the dismay of Fisher supporters. 
After the deflating drive ended in the interception, Brockport once again cashed in on the mistakes of Fisher. Gocella found Altenburger, this time in the corner of the end zone for an 11-yard touchdown and it was 28-12 Golden Eagles. Following a 3 and out, Raylens Boutin had an excellent 30-yard return, breaking multiple tackles and putting the Golden Eagles in good field position. Brockport then chewed up the clock, with senior running back Jala Coad doing the heavy lifting. His four-yard rushing touchdown solidified the lead for Brockport as some fans started to trickle out of the stadium.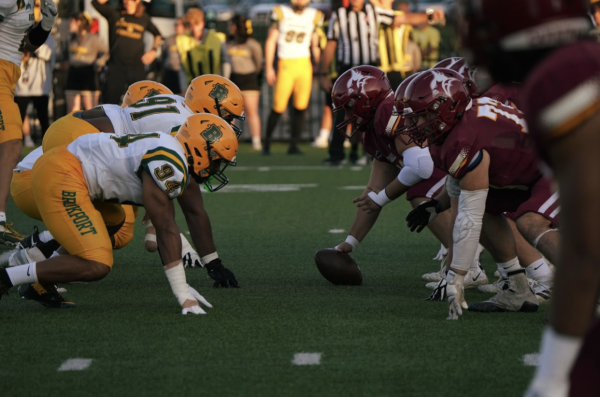 With a little over five minutes to go in the contest, Chase added another rushing touchdown, but they again failed on a two-point conversion. The onside kick attempt also didn't come to fruition as Brockport recovered the ball. A few rushing plays and a kneel brought the game to its final score of 35-18 Brockport. The two sides shook hands, and Brockport received the Teddi Trophy for the sixth year in a row.
Following a bye week, Fisher will travel to Oneonta to take on Hartwick on Oct. 14 at 2:30 p.m. 
More Than a Game: Fisher Hosts Courage Bowl XVIII