On Friday afternoon, I sat down with "The Snapchat Kid" for an interview. You may know him for his frequent appearances on the Class of 2027 Snapchat story, which is public to any Fisher student signed into the school's Snapchat Community. However, few have met his offline persona; someone I believe is a thoughtful young man with a positive attitude towards his future.
First-year Jack Lewis, also known as "Jewis," began his freshman year with a reputation. He's become well-known as "the Snapchat Kid" after being featured numerous times on the Class of '27 story, and has gained popularity after being the topic of many online discussions.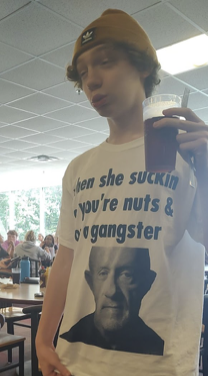 Jewis's popularity began on Snapchat after he wore a custom shirt to the dining hall. Many photos of him wearing the shirt were posted on the Class of '27 Snapchat story.
A Rochester local, he is proud to say he knows of many of the lesser-known hang-out spots around the city.  Some of Jewis's posts included these places, such as abandoned buildings. Jewis posted videos of himself in these buildings, surrounded by darkness and shards of glass. Another post was a video of him throwing rocks at trains. Jewis said the point of these actions were for fun, and to have a good time "creating core memories" every day.
However, the post that truly made Jewis a campus-wide talking point was the post he made on Sept. 11th. The image was a repost of entertainer Beetlejuice's annual Sept. 11th post and included the caption, "I wish you all a very 9/11." This post sparked controversy throughout the student body, with many students discussing the post both in real life as well as on the anonymous social media app, YikYak. Though some tried to defend him, the general consensus was against both Jewis and the post.
Thus, Jewis was given his new nickname less than a week into college, "The Snapchat Kid."
"The Snapchat kid, yeah," Jewis laughed. He didn't expect to become well-known within his first week at Fisher, or for a lot of the online attention to be critical. Fortunately, he shared that he hasn't seen much negativity outside of social media. "It's mostly positive," he explained, adding that people like to invite him over when they see him in public or ask to take photos with him. 
When asked about the Sept. 11th post, Jewis explained how he found the image. "I was scrolling through Instagram and I saw his [Beetlejuice's] post. I thought, 'That's a cool ass picture,' so I put it on the story."
He didn't expect the backlash he received from the post and adds that he didn't think before reposting the image. Still, he admits that some reactions were understandably critical. "It's completely reasonable to be upset, of course. People lost family in that, it's understandable."
However, Jewis doesn't believe that all of the negativity was based solely on the post. Before the post was made, people online threatened violence against him due to his frequent appearances on Snapchat. "I think a lot of people were just looking for an excuse to not like me," he shares, discussing online posts from people who claimed they hated him or wanted to punch him. "I think it's every college's culture to hate freshmen. I guess I'm the face of freshmen hate."
He doesn't seem to mind, though. Jewis adds that the opinions of anonymous people online don't bother him. "As long as I've got a group of friends who accept me, those comments don't really matter."
On the topic of social media, Jewis shared that he isn't the biggest fan of online connectivity. "It's messing with our culture," he said, thinking back to his childhood where social media was less common. "Before social media, there was a stronger sense of community. People knew each other." 
Jewis also shared that he doesn't want to change his personality to fit in with everyone. "I think it's more poignant to me when you're just yourself," he said. He doesn't think that other people should become bland to try to get everyone's approval. "You don't need to be liked by everyone. It's more important to be accepted by your friends."
Around Fisher, he's very outgoing and friendly, but he wasn't always an extrovert. "Four years ago, I was a little more shy," Jewis said. He cites transferring high schools as the beginning of his transition into a more outgoing person. "I got a fresh start. I decided that I was going to be as straight up as I can be."
Jewis is ready to take on this new chapter in his life, regardless of what others online may think of him. "By the time I pay off my debt, I'll be in a damn retirement home," he joked. "So I want to get everything I can out of my college experience."
Offline, Jewis leads a more carefree life. "I'm very impulsive, for better or worse," he admitted, thinking back to the 9/11 post. "I just see something and I do it." He enjoys exploring abandoned buildings throughout Rochester with his friends, mapping them out and discovering new ones. He likes to find new "weird shirts" across the internet to add to his collection. When asked if he does this to get a reaction out of other people, he said no. "I mostly do it for myself. Of course, I do like making people laugh, but I'm just kind of doing these things for fun."