On a misty September Saturday, the St. John Fisher Cardinals crushed the Hilbert College Hawks in a 62-7 blowout victory. Both teams came into the game looking to bounce back after week one losses. Fisher had previously lost 31-7 to Marietta College, while Hilbert lost 65-0 to Union College. Things seemed to improve for Fisher in this one, while the young Hilbert program still struggled to find its way.
The opening drive revealed the sloppy play that would cost Hilbert in this contest. On a 3rd and 10 play, senior Cameron Dunn intercepted a pass from Hilbert's Brody Hopkins. Fisher couldn't find the endzone on their first drive, but they settled for a 29-yard field goal by junior Kyle Farewell making it 3-0 Fisher. After a three-and-out by Hilbert, Fisher got the ball back and we saw another main storyline of the game develop which was the play of junior running back Peyton Nolan, who rushed up the middle for a 13-yard touchdown.
 With longtime running back Malachi Duvall graduating, Nolan has stepped up in a big way thus far this season. He rushed for 150 yards in this game and has 235 yards through Fisher's first two contests. I asked junior tight end James Kennedy what has been Nolan's key to success so far this season. "He is just a hard worker day in and day out and doesn't go down easy," he said. "[I] also have to give credit to our big guys up front for creating holes and seams in the run game."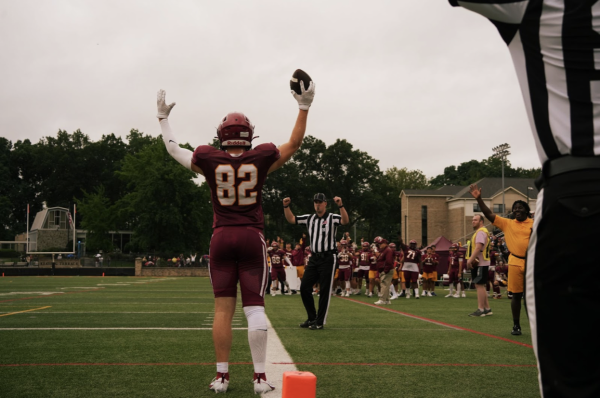 With rain falling down, it looked like Nolan was going to be the main workhorse in this game, but Fisher quarterback Aaron Chase wasn't afraid to throw a slick ball. He lofted a 16-yard pass to freshman tight end Nate McGoldrick to make it 17-0 Cardinals. Hilbert's struggles continued after this when a pass was tipped and intercepted by senior defensive back Joseph Milanese. Chase wasted no time once he got the ball back as he dropped in another beautiful touchdown pass, this time to sophomore receiver Ethan Curtis to up the score to 24-0. At this point, Hilbert wanted to shake it up a bit and they decided to make a quarterback change, swapping Hopkins for sophomore Noah Workman, but it was yet another failed drive for Hilbert. 
As the first quarter was winding down, we saw some great plays from Fisher. There was a 20-yard return by senior receiver Ryan Romagnoli, a 36-yard over-the-shoulder catch from Michael Escobar, and a 12-yard pass to Declan Faery to wrap up the quarter. The Cardinals finished off their drive at the start of the second quarter with a wide-open touchdown pass to McGoldrick, which was his second touchdown of the game to make it 31-0 Fisher.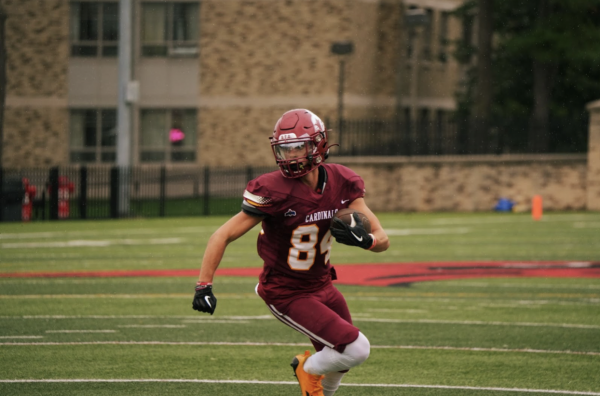 Fisher opened up the second half continuing to keep their foot on the gas. It was a 4-yard rushing touchdown this time by sophomore running back Giovanni DiCaprio. The lopsidedness of the game allowed Fisher to play their backups as Chase's day was done and senior Hunter Walsh came in to finish it off. Chase ended the day with 166 yards passing and four touchdowns, which earned him St. John Fisher Athlete of the Week. Walsh was no slouch either, he showed off his strong arm right away when he aired out a 41-yard pass to junior receiver Jaylen Brantley and a 23-yard touchdown to receiver Brayton Johnson.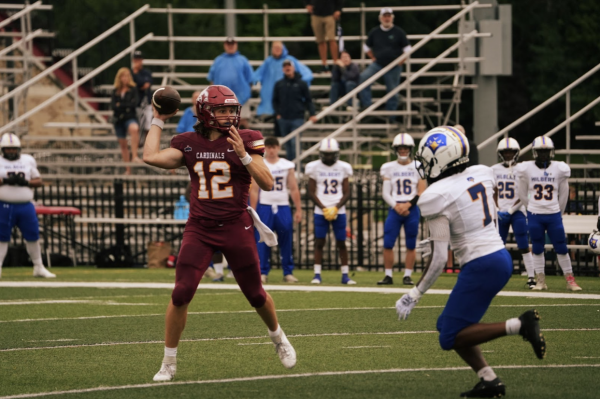 Fisher was getting it done defensively too, as Andrew Cassanova sacked Workman and Luke Strassberg recovered a fumble. Fisher once again found the endzone after this as Jason Britton made a leaping grab for a 6-yard touchdown. This would bring the Cardinals to its final point total of 62. 
Hilbert was able to eventually get on the board after a turnover by Walsh with a 19-yard rushing touchdown by freshman running back Zy'Mere Covington. If there are any negatives for Fisher from this game, it would be the turnovers at the end of the game and the penalties, but it's safe to say they're happy with the final score of 62-7. When asked who impressed him most in the contest, Kennedy replied "The team as a whole impressed me, especially after coming off a loss to Marietta. We were able to put together a good week of practice and get the dub on Saturday." 
Fisher looks to continue this momentum in a September 16th matchup on the road against Keystone College.