Fisher Has a Hit Parade in 15-4 Win Over Houghton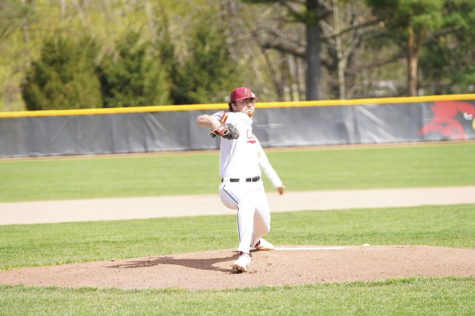 On a day when Mother Nature spun her roulette wheel for Pittsford and landed on sunny and warm, the St. John Fisher baseball team sent the Houghton University Highlanders home in a 15-4 shellacking. The Cardinals took advantage of the Houghton hurlers' inability to find the zone at times. They stayed patient, worked counts, and then did damage with the bats.
Things weren't initially going the Cardinals' way, however, as Houghton senior outfielder Jason Kauffeldt took Fisher's Connor McHugh deep on a leadoff homer to right field. McHugh was able to get out of the inning without any further trouble, getting a strikeout looking and a pair of flyouts.
The Cardinal bats were able to back up their starter throughout the game, and it started in the bottom of the first inning. Senior infielder Noah Campanelli started the party with a leadoff single. He then proceeded to steal second and advanced to third on an error. He scored on a sac fly from Nick Lemire, and the Cardinals tacked on three more runs in the inning after this.
Following a one-run top of the second, it was no harm, no foul once again as junior James Murphy walloped a two-run home run to center. I caught up with Murphy after the game and asked what he saw in that at-bat. "I got a first-pitch fastball, saw it away and just went with it," he explained.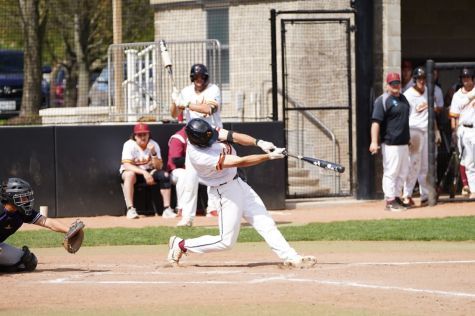 McHugh was able to settle in for the third and fourth innings as he pitched two scoreless frames. At the same time, the Cardinal bats put up crooked numbers; three runs in the third and five in the fourth. The highlights were a two-run shot for catcher Ethan Perry and Ben Lavery matched him with a two-run bomb of his own – this wouldn't be his last as he would go on to hit a solo shot in the fifth. It was also announced on the loudspeaker that Campanelli had broken the single-season stolen base record for Fisher with 31 when he swiped his third bag of the game in the third inning.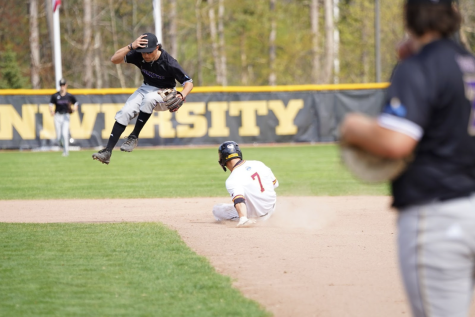 With the Cardinals having plenty of ducks on the pond throughout this game, I wondered if Murphy's approach typically changes with runners on. "No," he said. "Maybe if there's a runner on third I'll try to get the ball in the air if there's one out but other than that [I] just try to stay middle and hit a line drive."
McHugh ran into a bit of trouble in the fifth inning as he surrendered a pair of runs, but was able to get out of a jam with a strikeout swinging on Houghton junior Ethan Cetton. He ultimately finished the day with five innings pitched, seven hits, three strikeouts, a walk, and four earned runs. 
The Cardinals closed the game out strong as rain clouds started to form. In two innings of relief, senior Christian Maloney tossed two scoreless innings in the sixth and seventh, only allowing one hit while striking out three Houghton batters. When the dust settled, Fisher came away with a 15-4 mercy rule victory.
I asked Murphy who impressed him the most in the game. "Probably Ben Lav. Ben Lavery hitting two home runs, that was clutch," he answered. He went on to say that all of his teammates had a good day, and this is a very true statement as every starter had at least one hit or RBI.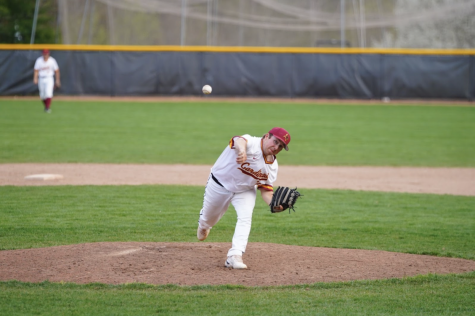 The win improved Fisher's record to 18-12, and they are 10-0 in the conference at the time of publication. The start of the season was a bit rocky for the program as they had a 3-9 record through 12 games. They were, however, able to turn things around leading up to the Houghton game including some lopsided wins like a 27-6 win against Medaille University.
The veteran bats have led the way so far for Fisher. At the time of publication, Murphy has 14 home runs on the season while Lavery sits at 10. Murphy has also driven in a team-leading 54 runs. Campanelli is getting it done as well, currently hitting over .400, and has 31 stolen bases on 33 attempts. 
Fisher is slated to play a doubleheader in a rematch against Houghton on April 23rd, with the first game at 12:30 and the second at 3:30. 
Leave a Comment
Donate to Cardinal Courier
Your donation will support the student journalists of St. John Fisher University. Your contribution will allow us to purchase equipment and cover our annual website hosting costs.
About the Contributor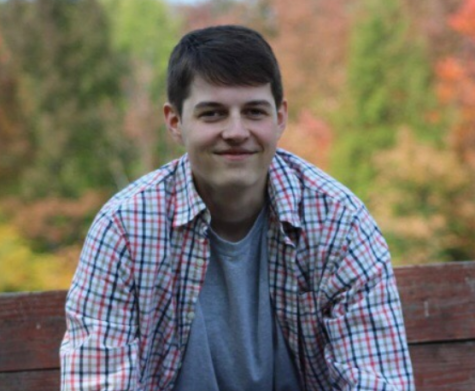 Nick Kehoe, Sports Editor
Nick Kehoe is a junior Sport Management major. He is currently the Sports Editor for the Courier. Nick also writes game recaps as well as student-athlete...