The Affirmative Action Debate: How Is Fisher Impacted?
Fisher has seen many ages of growth in its 75 years of existence; from admitting its first female class in 1971, to advancing the institution with a new "University" title, to welcoming Fisher's most diverse class in the fall of 2022. 
Throughout all of these periods, Fisher has become home to an increasing number of students from a range of diverse economic, racial, religious, and ethnic backgrounds. But with the ongoing debate of affirmative action laws, will our institution's diversity continue to grow?
What is Affirmative Action?
Since 1961 when affirmative action was enacted, it continues to be a controversial and relevant topic. But what do the current affirmative action laws state? 
According to Cornell Law School, "Affirmative action is defined as a set of procedures designed to: eliminate unlawful discrimination among applicants, remedy the results of such prior discrimination, and prevent such discrimination in the future." 
These laws were intended to ensure that people of color were not discriminated against based on their race or ethnicity and encouraged the hiring and acceptance of people of color, ensuring that they held a place in the post-segregation world. In terms of higher educational institutions, affirmative action laws were put in place to diversify colleges and universities.
Affirmative action laws have sparked a two-sided controversy: to allow or reject the use of race or ethnicity as a factor in promoting an individual's workforce and educational acceptance. 
According to AP News, "Racial quotas that reserve a certain number of seats for minority students have been deemed unconstitutional, but the court has said that colleges can consider race as long as it's one of many factors in the decision." In terms of the original goal to promote diversity, the current affirmative action laws allow colleges and universities to have an idea of the racial diversity of their applicant pool, ultimately giving the institution insights into the diversity they could potentially bring onto their campus.
Diversity at Fisher
In recent years, Fisher has taken steps to create a more diverse and inclusive campus. What could be considered the most progressive of these efforts is the appointment of Dr. Marlowe Washington as the university's Senior Diversity Officer in 2021. Dr. Washington's role on campus is to create a fair and equitable community for everyone on campus, regardless of whether that individual is a student, staff, or faculty member.
With the continued progression of diversity on our campus, the controversy over affirmative action laws has brought the question: if the laws were to change, how would Fisher's growing diversity be affected? 
In order to consider the effects that the potential changes would have on our university, it's important to first understand the current policy of diversity, equity, and inclusion which we currently operate under. 
Dr. Washington describes diversity, equity, and inclusion (DEI) as a framework for creating an even playing field so that all people can experience "better betterment and opportunity." It's about decentralizing power from a specific group of people and giving all people the ability to share a piece of that same power; it's not just limited to those who belong to the dominant group.
Dr. Washington has spent the past year or so creating an infrastructure for DEI at Fisher, which is based on three main focal points: inclusion, talent management, and student success. The goal is to be a place where all employees feel they are valued and can climb the employment ladder to reach their goals, where all students are offered opportunities and resources to help them thrive, and where all people feel that they belong.
Diversity on our campus has increased not only racially, but in terms of gender, sexual orientation, economic status, and ethnicity as well. Dr. Washington emphasized the importance of accepting and learning from all kinds of "otherness," and how it has allowed us to grow as a more accepting and inclusive community. 
In terms of federal diversity legislation, Dr. Washington said that affirmative action is "a federally mandated compliant rule that every institution and the government has to live by." However, while Fisher as a university is still compliant with these laws, it has begun to function through the framework of DEI. Dr. Washington considers DEI the "spirit of the law," meaning that Fisher's actions to achieve diversity have not been informed by affirmative action legislation. Instead, Fisher has taken steps to create a diverse environment because, in the words of Dr. Washington, "it is the human rightful thing to do and it's for the good of human flourishing."
Fisher has several programs which aim to increase the diversity in our community without the influence of legal diversity laws such as affirmative action. The Urban Scholars program is a scholarship that aids students from the City of Rochester and has increased our racial and economic diversity. The university has additionally increased connections with school districts and areas that serve students who are predominantly minorities, bringing a more diverse group of people to our campus. 
Dr. Washington explained the benefits of diversity best when he stated, "We can prepare our community members to go out of Fisher and go into the world and be prepared as global citizens, and so we are trying to teach every person, myself included, what it means as we exit through those gates at 3690 East Avenue, which is the address of right here, to know how to interact with other persons who are different than you or coming from different backgrounds, and knowing how to interact with them."
While the affirmative action laws have yet to be changed, the ongoing controversies have brought questions as to how different institutions would be affected if they could not consider race in admissions decisions. Thanks to the different DEI programs on campus,  Fisher would continue to grow a diverse and inclusive community regardless of the law.
For more information on the affirmative action debate, take a look at these additional sources:
https://www.law.cornell.edu/wex/affirmative_action  
https://www.pewresearch.org/fact-tank/2022/04/26/u-s-public-continues-to-view-grades-test-scores-as-top-factors-in-college-admissions/
https://www.pewresearch.org/fact-tank/2019/02/25/most-americans-say-colleges-should-not-consider-race-or-ethnicity-in-admissions/ 
https://www.americanprogress.org/article/5-reasons-support-affirmative-action-college-admissions/
https://apnews.com/article/college-admissions-us-supreme-court-race-and-ethnicity-racial-injustice-harvard-university-95be5363a3245fbf185babe8423426a4 
Leave a Comment
Donate to Cardinal Courier
Your donation will support the student journalists of St. John Fisher University. Your contribution will allow us to purchase equipment and cover our annual website hosting costs.
About the Contributor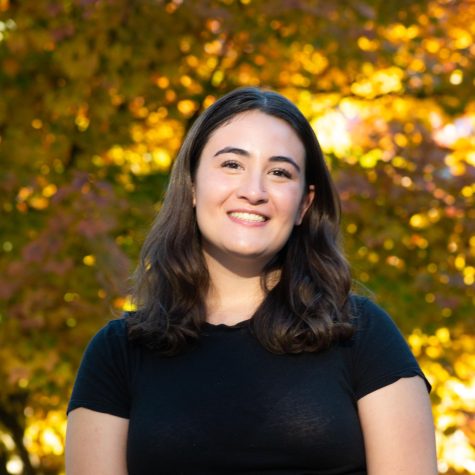 Mallory Schake, Managing Editor
Mallory Schake is a sophomore Media and Communication major. She serves as the Managing Editor for the Cardinal Courier. Mallory currently covers on-campus...