Cardinal Connection: Athlete Spotlight – Claire Kruszka
The women's basketball team at St. John Fisher has been a well-oiled machine in recent years, compiling 52 wins and only six losses in the 2021-2022 and 2022-2023 seasons. This past season, the Cardinals went undefeated in conference play and capped it off with an Empire 8 Championship win over their top rival, Nazareth College. The success didn't end there, as the Cardinals also earned a trip to the Division III NCAA Women's Basketball Tournament, with an eventual defeat at the hands of Smith College in the second round. One of the most influential players on the squad is junior guard Claire Kruszka, who has racked up a long list of accolades thus far and changed the landscape for athletes at Fisher with the "Athlete to Athlete" club. I was able to take a deeper dive into Kruszka's time at Fisher in a Q and A.
Q: Tell me about yourself 
A: I'm from Lake View, NY, and went to Frontier High School. I played varsity basketball all four years of high school, soccer for three, and ran track. My high school team went to the AA Section VI championship for basketball three years in a row and won my junior year. I scored 1,000 points and was named All-Western NY second team my junior year as well. Outside of basketball, I'm an RA, I am involved in a few clubs on campus, and really like playing intramural volleyball. I am very interested in mental health and started a club on campus to spread awareness of and advocate for our student athletes' mental health/well-being. 
The club that Kruszka started is "Athlete to Athlete," or you might see it as "A2A." Making the transition to college can be daunting alone, but adding a rigorous athletics schedule on top of that is something that can be even tougher to handle. This can lead to challenges with mental health, leading Kruszka to start the club in hopes of ending the stigma around mental health in sports, and overall, providing an outlet for student-athletes who may be struggling.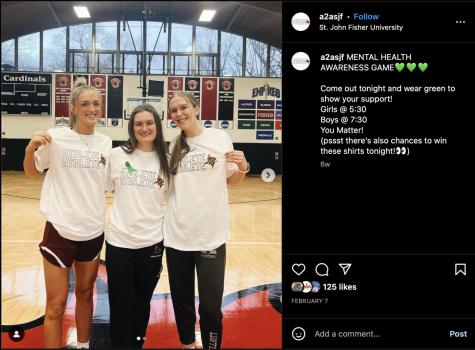 https://www.instagram.com/p/CoX_cyMvPO2/ 
Q: What has been your favorite basketball memory while playing at Fisher?
A: My favorite basketball memory while at Fisher is when we beat U of R in the Mark's tournament last year. A close second is when I hit a buzzer-beater near half-court against Hartwick. The shot didn't matter at all but the whole team swarmed me and had so much energy, it will be engraved in my brain forever.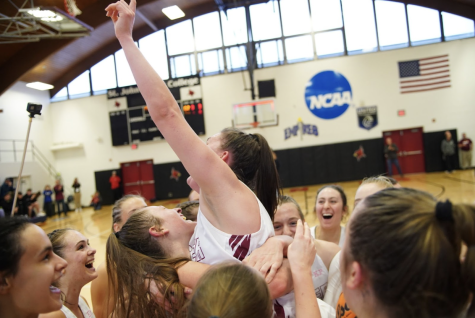 The first game Kruszka mentioned was a 56-53 win over the University of Rochester in the Mark's Pizzeria Crosstown Shootout Tournament. Upon looking at the statistics from the game, you can see why it's now a good memory for Kruszka. She led her team in points with 18 and sunk a clutch 3-pointer with under a minute left in the game to give Fisher the lead that it would solidify with a pair of free throws. This high level of play earned Kruszka the title of Most Valuable Player at the tournament.
The buzzer-beater shot Kruszka hit was in a 67-61 victory against Hartwick College back in February 2022. In a game celebrating that year's class of seniors, she hit a shot when the buzzer sounded at the end of the first quarter and she eventually finished the game, once again, leading the Cardinals in points with 19.
Q: Do you set any goals for yourself at the beginning of each season? Are there certain things you want to achieve each year?
A: Before each season, we have individual meetings with the coaches to talk about the previous season and what we would like to make of the upcoming season. My biggest goal for next year is to help the team win E8s and get to NCAAs again, but get to the Sweet Sixteen and beyond. Most of the goals I set for myself, I keep to myself. I would love to hit 1,000 points and I always strive to be the best player on the court. Our non-conference schedule will have us playing some decent teams next year, and this helps me achieve the most important goal of constantly improving every day, not only as an individual but as a team too. 
In Kruszka's freshman season, the Cardinals lost to Nazareth in the Empire 8 Championship game. Then in her sophomore season, Fisher got revenge on the Golden Flyers with a win in the championship game. The Cardinals later lost to Amherst College in the second round of the NCAA tournament. Finally, this past season Kruszka, now in her third year as a Cardinal, was a part of another championship win over Nazareth but once again lost in the second round of the NCAA tournament. Kruszka and the Cardinals will look to get over the hump of the second round in her senior campaign. And pertaining to the 1,000-points goal, she currently sits at a solid 797.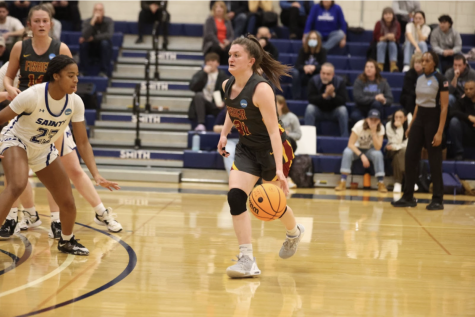 Q: What does winning the E8 championship mean to you? Describe your emotions as you won the game.
A: Personally, winning an E8 championship shows all of the work and dedication every player has put in over the past few months. We've had a few highs and lows this season, and winning has shown how we've stuck together to persevere as a team. As we won, I was just happy to be there. I wanted to cry happy tears because realizing I was playing the game I love with some of my favorite people and winning a championship had me overwhelmed by emotions. 
Kruszka was more than just 'there.' She nearly had 40 minutes on the floor which allowed her to compile 20 points, six rebounds, and nine assists. She also performed perfectly at the free-throw line with five successful attempts. Following this performance, Kruszka won the Torchbearer Award, which celebrates student-athletes playing in Empire 8 championship games that have the highest cumulative GPA for each respective sport.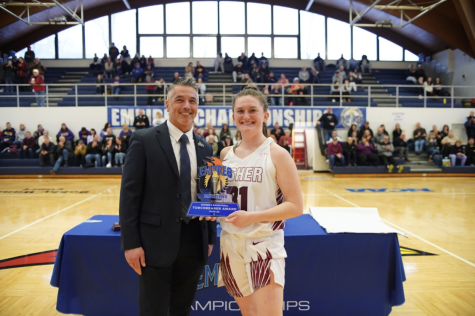 Q: How do you think your team has been successful over the past couple of years?
A: One of the biggest reasons I think the team has been so successful over the past couple of years is the bond we've created. There is not one player on the team who doesn't show up every day to practices and games, which shows our dedication. We have learned to play as a team and to play for each other, which shows when we're on the court. I know that whoever I'm on the court with at any given time will have my back, pick me up when I make a mistake, and be my biggest cheerleader when I succeed. It is a long season, and I think we've succeeded because we have created an environment where both incoming and returning players feel at home when we're together. 
The Instagram account for the basketball team shows that the bond goes off the court as well, such as a recent trip to play laser tag. Kruszka also created a couple of videos during their road trips to the NCAA tournament where she interviewed her teammates on the bus. You can tell that the team is a cohesive unit, even if some teammates would use 'each other as bait' in the 'Who would you take on a deserted island with you' video.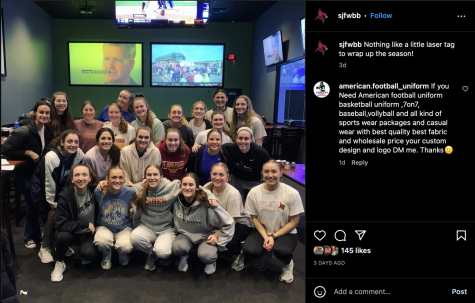 https://www.instagram.com/p/Cp_dMrAOwSv/
Q: How have the team staff, as well as Coach Kuberka, contributed to your success during your time at Fisher?
A: Coach [Melissa] Kuberka, Coach Hannah [Rehbaum], and Coach Sid[ney Wentland] have all dedicated a lot of their time to the game and to working with us to improve, both as players and as human beings. They challenge us to be better than we were yesterday, to empty our tank, and get the most out of us. They have been very encouraging and supportive not only with basketball, but with my academics and life decisions in general as well, and are constantly pushing me to achieve my goals. I'm so grateful for the relationship I have with each of them and they have worked together to create a strong culture that develops their athletes into well-rounded individuals. I love being a part of the program they've built and am thankful for the experiences I've had because of their love for the game and each of us. 
Kuberka has been with the team since 2017, while Rehbaum was hired in 2019. Both coaches have championships and tournament appearances under their belts. Their efforts have turned the women's basketball team into a Division III powerhouse, and have helped Kruszka become the student-athlete she is today.
Leave a Comment
Donate to Cardinal Courier
Your donation will support the student journalists of St. John Fisher University. Your contribution will allow us to purchase equipment and cover our annual website hosting costs.
About the Contributor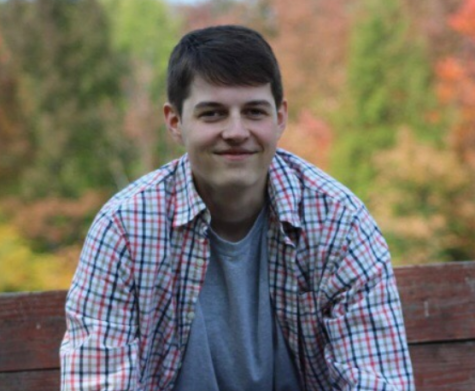 Nick Kehoe, Sports Editor
Nick Kehoe is a junior Sport Management major. He is currently the Sports Editor for the Courier. Nick also writes game recaps as well as student-athlete...