Connor "Big Cozy" Williams: Handling Adversity and Using Fame for Good
On December 21, 2021, Connor Williams' life changed forever. In a 100-58 exhibition loss to Division I University at Buffalo, Williams made a play that helped him become not only the most well-known kid on St. John Fisher's campus, but also known around the world. In a viral clip that was posted on outlets such as ESPN and Barstool Sports, Williams trips and falls on the ground, but then dishes an excellent pass to Daniel Cook who completed it with a dunk. The clip quickly went viral not only because of the play but also because of his 7-foot, 360-pound frame. Many people on the internet supported him, but others had negative comments about him. Nonetheless, Williams proved everyone wrong and landed a NIL deal as a Division III athlete. I had the opportunity to ask Williams about topics like his new deals and how he handles negativity.
Q: With the release of your new merch from Barstool Sports, what was the process like of getting that online? How much creative leeway did you have with the design of the apparel? 
A: Basically what happened was a member of their Barstool Athletics team reached out to me via Instagram DMs wanting to collaborate and release some merch. I was excited to do this and had a say in the logo, they worked on the design and we decided on the best one.
The design in question features Williams sitting in a recliner by the fireplace whilst spinning a basketball on his finger. He is also sporting pajamas, which is how he got the nickname "Big Cozy," due to him showing up to practice one time in PJs. Under his slippers states his name, and above his head reads "Big Cozy" in yellow capital letters. T-shirts and hoodies can be purchased at the Barstool Sports store website.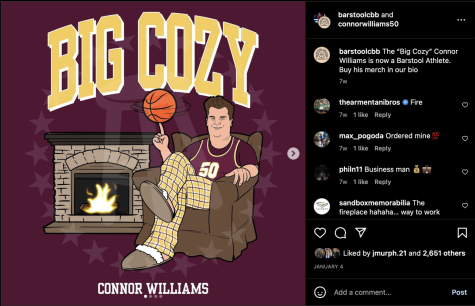 https://www.instagram.com/p/CnAbiMmPfxp/?hl=en 
Q: How do you deal with adversity or hate?
A: Well I would say I am used to it. I faced adversity and hate my whole life because too many people in this world have nothing better to do than be hateful or keyboard warriors on the internet. I try to overcome the hate by remaining positive and not stooping to the level of those people.
When Williams first blew up on social media, I remember reading comments that mocked his stumble, despite him recovering and making the play. He has been able to navigate the negativity well and use his popularity for good. Before the apparel with Barstool, Williams partnered with Crazy Dog T-shirts, and $5 from every purchase was donated to PrimeTime585. The organization helps bring young athletes and families together through sports.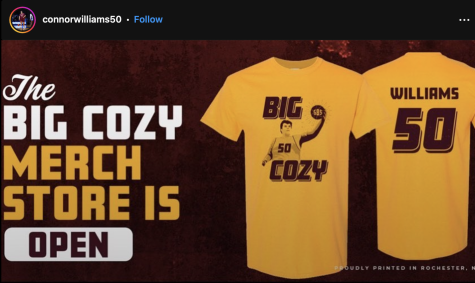 https://www.instagram.com/p/CXj41ffu2sD/?hl=en 
Q: As you've grown up, who has been your biggest inspiration or role model?
A: Definitely my parents; they raised me to be who I am today and have taught me how to handle things and let me be myself, which has led me to be the person I am today.
Connor is the son of Chris and Kristin, and he is from Victor, NY. He played football and basketball for Victor High School. He received offers from Division II schools to play football but ultimately decided on playing basketball at Fisher. 
Q: Has your experience at Fisher changed since the fame?
A: Not really; people are so nice here, and besides people here and there coming up to me to talk about it, nothing has really changed.
Williams is definitely a beloved person on Fisher's campus. The crowd erupts in cheers whenever he steps onto the court. You can also see his teammates wearing his latest shirts during warmups.
Q: What goals do you have for your basketball career moving forward?
A: I don't really know, to be honest, I just want to play and enjoy my time here and then see what happens.
In his freshman campaign, Williams was a part of 20 games and had an average of 2.9 points per game alongside 2.4 rebounds per game. He has also gone viral again during his sophomore season, as clips of him draining threes are featured on Sportscenter's Instagram. Ironically, the game was once again against Buffalo.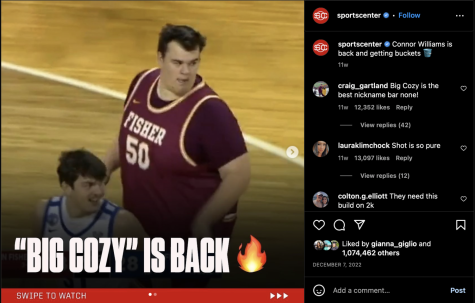 https://www.instagram.com/p/Cl4NluTvaVS/?hl=en
Q: What was the process like for getting your NIL deal?
A: Pretty much all of my NIL deals came about through my Instagram DMs and they ask me to do something and either agree or don't do it. 
A NIL deal is how college athletes can earn money for their name, image, and likeness. Aside from the apparel that Williams has made, he has also partnered with DXL Big + Tall and even has his own signed basketball card with Leaf Trading Cards. His deals have shown the possibilities that NIL has for college athletes around the country, even at the Division III level.
Q: Who are the biggest names that have reached out to you?
A: Dave Portnoy, Dillon Danis, Chris Brickley, and Fredo bang
Williams' messages with Portnoy helped him create his current merch, as he is the founder of Barstool Sports. Danis first became famous for achieving a black belt in Brazilian jiu-jitsu and then becoming a partner and coach with accomplished UFC fighter Conor McGregor. Brickley is a former college basketball player with Louisville and is now an NBA skills trainer for stars like LeBron James and Carmelo Anthony. Fredo Bang is a rapper from Louisiana who has amassed over one million monthly listeners on Spotify.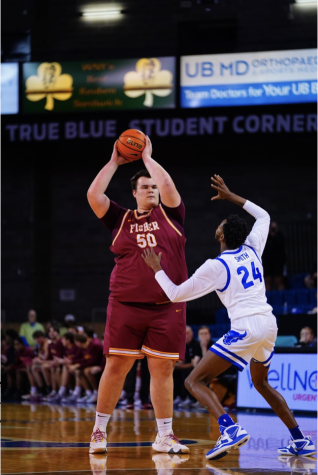 Q: What advice would you give to other athletes with your stature?
A: I would say don't let anyone tell you what you can and cannot do. Work hard and you can do anything you want to, you don't have to look a certain way to play a certain sport.
Williams has proved all of his doubters wrong and continues to be a force on the court, but he has also been an even better person off of it. He has given back to the community and is a beloved teammate. The way he has handled his popularity is impressive and fans around the country look forward to the rest of his playing days and beyond.
Leave a Comment
Donate to Cardinal Courier
Your donation will support the student journalists of St. John Fisher University. Your contribution will allow us to purchase equipment and cover our annual website hosting costs.
About the Contributor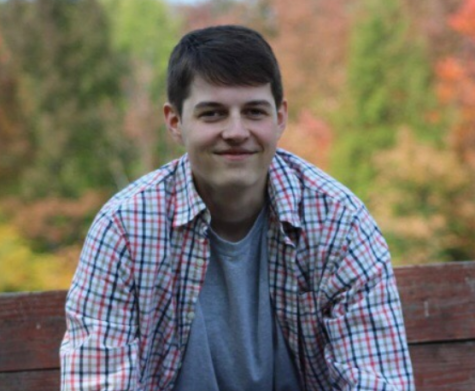 Nick Kehoe, Sports Editor
Nick Kehoe is a junior Sport Management major. He is currently the Sports Editor for the Courier. Nick also writes game recaps as well as student-athlete...