Taylor's Tour Was Too Big For Ticket Master
Brooke Eastman 25′  Staff Writer
November 19th, 2022
On Tuesday, November 15, fans who were selected and sent a code through Ticketmaster's Verified Fan system embarked on an almost day-long journey to buy tickets to Taylor Swift's Eras Tour, which consists of 52 dates and is set to begin in March 2023. Ticketmaster sent out unique codes to a select number of fans who had registered for the tour's presale date on Monday evening, and instructed fans to log into the queue online on Tuesday, 10 minutes prior to the sale at 10 am.
Before tickets even went on sale, the Ticketmaster website was beginning to glitch as people joined the site to sign into their accounts. The site experienced multiple 505 byte error messages, as well as notes of technical difficulty. 
At 10 am, people were moved into the queue to begin waiting for the specific city and date they received their code for. Most users were met with a time bar that would slowly move across the screen as they got further in the queue, with a message saying there were 2,000+ people ahead of them. This number decreased as they got closer to the front of the queue.
However, as many people experienced, the front of the queue did not mean they successfully secured tickets. For some, the website timed out as it finally became their turn and were sent back to the beginning of the queue to wait all over again. 
Some people received emails that they were selected for presale, but did not receive a corresponding text message with their access code. At one point while waiting, the queue was temporarily paused for all individuals due to the access codes not working in Ticketmaster's system as people were at checkout with their tickets. 
Many fans who were able to get tickets expressed that there were hardly any tickets left besides expensive VIP seats, seats located behind the stage, or seats up in the nosebleeds. Sadly, many fans were not able to get any tickets after waiting as long as eight hours in the queue. 
Due to the presale difficulties, the sale for Capital One credit card members that was supposed to take place at 2 pm on Tuesday was moved to the same time on Wednesday, similarly resulting in technical difficulties and empty-handed fans. Despite Ticketmaster's statement that the change would not affect ticket availability, some members were notified that there was no remaining inventory for their chosen show. 
Ticketmaster is now facing backlash from fans, who expressed that they took off from work, school and even appointments to buy tickets and ended up with none. Fans who have attended previous tours expressed that the ticketing system used prior had a smoother purchasing process. 
The live entertainment conglomerate is accused of sending out too many access codes, being unprepared, and unjustly charging service fees whilst having so many challenges holding traffic on their site.
Ticketmaster shared an update on Twitter reading, "a few updates on the Taylor Swift Eras Tour onsale:" in which they describe the demand for tickets as "historically unprecedented" as they have said many times prior to this statement, with millions showing up to presale to buy tickets. The statement said that hundreds of thousands of tickets had already been sold and to "hang tight" if you're still in a queue. The West Coast presale times were to be delayed from 10 am PT to 3 pm PT as well as the capital one delay to Wednesday. 
The company said that 3.5 million people registered for the Verified Fan program, and that about 1.5 million were selected to receive the access code for the sale on Tuesday morning. The remaining two million were put on a waiting list. Ticketmaster said it received 3.5 billion system requests that day. On Tuesday alone, two million tickets were sold. 
Many fans took to Twitter to express their disappointment. 
@nils_sjoberg13: "The most frustrating thing is that she'd had a way more effective system in the past. This isn't her first tour. There was a system that worked incredibly well, why not use it again."
@SoShameonMeow: "Can we all agree that this has been the worst ticket buying experience of our lives?? I've literally cried so much for the past 24 hours"
@melbourneswifty: "Taylor will be celebrating the eras tour without so many of the fans that have stood by her through all the eras because they couldn't get tickets or couldn't afford it. So so disheartening."
@blesstherain13: "Does anyone else feel guilty for having tickets for tour or is it just me?"
@hannnahkristine: "I dont know if you are aware, but a lot of loyal fans got screwed over trying to buy tickets yesterday. So many fans didnt have the chance to buy even one ticket after waiting in line for literal hours. Yet, so many scalpers are reselling now for thousands of $ @taylorswift13"
@brynnestarz: "why is Taylor not acknowledging this. It's so hurtful"
Ticketmaster released a statement on Twitter that due to minimal inventory and extreme demand, the general sale that was supposed to open to the public on Friday, November 18, has been canceled.
Leave a Comment
Donate to Cardinal Courier
Your donation will support the student journalists of St. John Fisher University. Your contribution will allow us to purchase equipment and cover our annual website hosting costs.
About the Contributor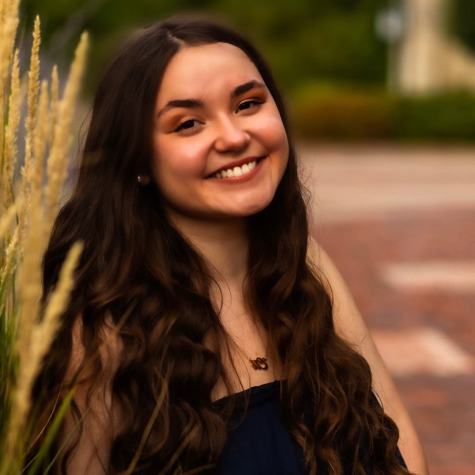 Brooke Eastman, Managing Editor
Brooke Eastman is a junior Media and Communications major at Fisher. She currently serves as Managing Editor of the Courier. She is a Rochester native,...