Battle of the Beaks '23: The Recap and Experience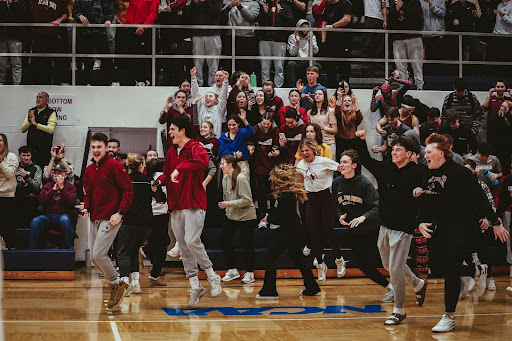 Jan. 24, 2023 — On the surface, Battle of the Beaks is a simple concept: two rival schools (St. John Fisher and Nazareth) play in a basketball game to benefit Golisano Children's Hospital. Upon purchasing my $5 ticket at Fisher's Manning & Napier Varsity Gym, I was clueless about what would come later in the athletic center. From seeing Spiderman sporting a pair of "jorts" to storming the basketball court with my peers, this was an experience I won't soon forget.
A little before 6 p.m. on gameday, my friends and I filed into the gym. The man ripping our tickets instructed us that our half of the ticket would get us food at the food truck parked outside. We walked down the steps to the court to sit on the lower-level bleachers, which were packed with students eager to cheer and jeer. We attempted to sit on the first level of the bleachers, which are closest to the floor, but we were instructed by security that we couldn't. Luckily, we were able to pack in a couple of levels up with our other group of friends. Fisher's women's team finished their warmup shots, the national anthem played, and it was time for a highly-anticipated event to start.
It was Emilia Johnson who opened the scoring to start the game with a 3-pointer, and she went on to dazzle beyond the arch, going 5-7 from three. Fisher kept its foot on the gas throughout the first half as they never lost the lead, despite being outscored in the second quarter. A big factor in the game was sophomore guard Sidney Tomasso, who logged the most minutes for the Cardinals and put up 19 points alongside eight steals and six boards.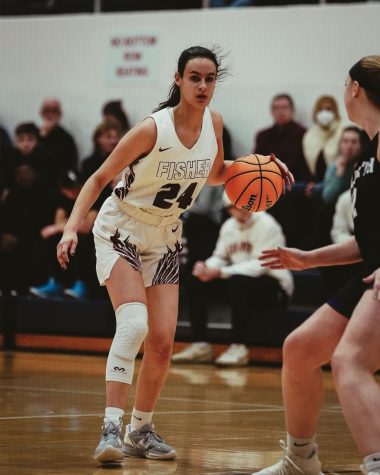 Tomasso's two successful free throw shots were the first points of the second half. The third quarter ended with a score of 66-50 in favor of Fisher, and one of the students in Fisher's student section started an "I believe that we will win" chant. The Cardinals women's team took this chant to heart and finished off Nazareth with a score of 84-66. The student section celebrated the win and prepared themselves for the men's game. I attended the game with Andrew Brandt, who is a sophomore student at Fisher. I asked him what impressed him about the women's game and he raved about the level of play from the freshmen. He said, "It's kind of rare that you see freshmen perform so well under that kind of pressure and in that kind of environment. There was a point where the girls let Naz back into the game in the second half, but they held their composure extremely well and ended up pulling away and getting the win."
More Nazareth fans poured in through the doors as the men's teams started their warmups. Fisher's women's team also received a cheer as they came out of the locker room and joined the student section. Everyone in the section was on their feet, and it remained this way for the rest of the game. The consensus going into this game was that it was going to be a tough game for Fisher, and it proved to be a battle throughout.
As the game broke out, a feud started between the Fisher and Nazareth student sections. The Nazareth section leader, sporting a No. 11 basketball jersey repping his team, while Fisher's section leader chose to wear John Lennon-esque sunglasses. The two duked it out to see who could get their crowd louder. When a Nazareth player fouled a Fisher player, chants of "you can't do that" came from the Fisher section. Meanwhile, you could see Nazareth's student section leader imitating basketball referee hand signals to try and rile up Fisher's section.
It was one of the best crowds I've been in at a Fisher sporting event. Being that Brandt is a former basketball player, I wondered how much impact a crowd of this magnitude has on the players. He stated, "The crowd is something that athletes feed off of, especially in rivalry games like this. It can definitely throw you off your game a little bit especially when they get in your head, but if you can kind of block it out and focus on the game, it's an awesome feeling." He went on to say that he enjoyed that opposing fan at away games yelling at him because it gave him another reason to play better.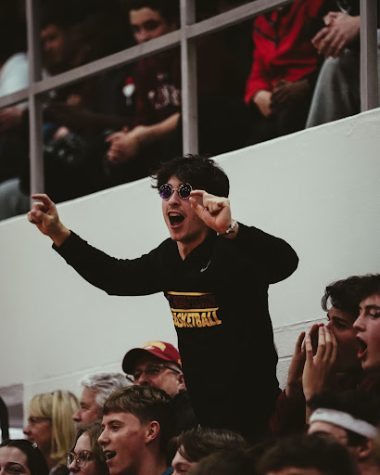 The men's game wasn't as easygoing for Fisher fans compared to the women's game, as the lead changed multiple times. In fact, Fisher was down 36-33 at the end of the half. The star of the show for Fisher was veteran Ryan Gentile, with 12 points in the first half. The Cardinals needed a spark to get them over the hump and win this grueling game.
As we were getting ready for the second-half warmups, Fisher's beloved Cardinal mascot seemingly came out of nowhere to support the student section. He danced to Soulja Boy's popular hit "Crank That," and the section even challenged him to "hit the griddy." Then I saw something you don't see every day; someone in Fisher's student section was wearing a Spiderman outfit complete with Black Air Forces and "jorts." My friend Joe put the fan's outfit all together by placing my Yankee hat on his head. It was truly a bizarre scene, but sometimes sports are all about weirdness and superstitions.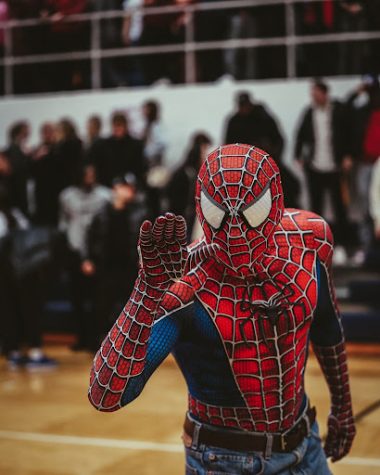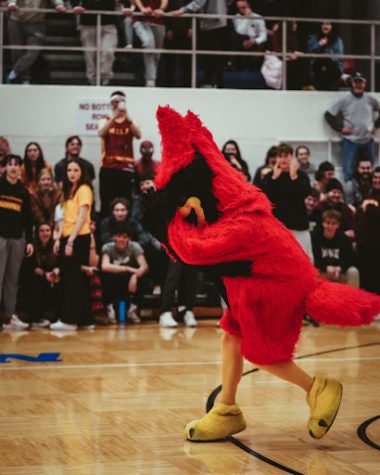 At the 17-minute mark of the second half, Nazareth got its lead up by eight points, but Fisher clawed back until the game was tied at 61 apiece. With just under three minutes to go, freshman Brendan McRoy hit a jumper for two and made it a 65-64 game. Brandt was particularly fascinated with how McRoy performed as a freshman. He stated, "I was really impressed with the way he handled the pressure and kept the flow of the offense going at such a stressful time of the game." Another impressive freshman during the game was Akinlana "AP" Popoola, who brought energy and speed to the court while compiling eight points and logging 11 minutes. A crucial free throw that would've given Nazareth the lead was missed, and Connor Recore got a big bucket to make it 67-65. At this point, my heart was racing as I knew this game would come down to the wire.
The idea of storming the court started to stir about in the Fisher student section. Storming the court is something fans do when their team captures a big win. I didn't know if the staff at the game would try to stop us, but to my surprise, Brandt said that a staff member said we should. As Gentile and Daniel Cook sunk game-sealing free throws, the buzzer sounded and the scoreboard displayed a 70-67 victory for St. John Fisher. I saw my friends rush to the court and I followed, clutching the belongings in my pockets so they wouldn't fly out in the pandemonium. It was an amazing feeling to run to that sea of joyous fans and players and jump with them. Brandt put it best, saying "It was probably the biggest rush of adrenaline I've had in quite some time, to be honest." He and I will never forget this moment, and we both hope to experience something like it again. Who knew a $5 ticket would've given me a memorable experience that I will look back on fondly for years to come?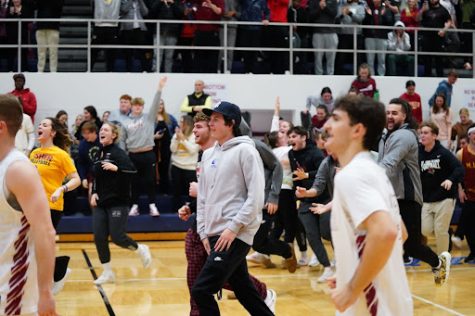 View Comments(1)
Donate to Cardinal Courier
Your donation will support the student journalists of St. John Fisher University. Your contribution will allow us to purchase equipment and cover our annual website hosting costs.
About the Contributor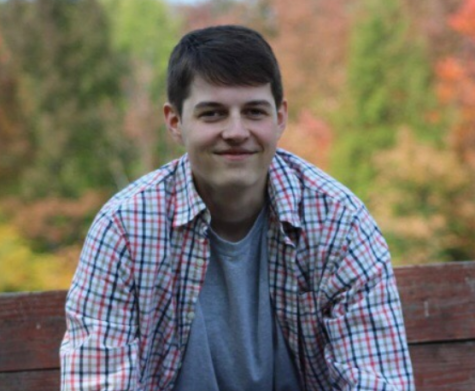 Nick Kehoe, Sports Editor
Nick Kehoe is a Sophomore Sport Management major and sports writer for the Cardinal Courier. He is also the social media manager for Fisher's JV men's...