Fisher BSU Honors MLK at Black Excellence Legacy Gala
On Monday, January 16, St. John Fisher University students, faculty, and staff gathered in Cleary Auditorium for the inaugural BlackExcellence Legacy Gala, sponsored by the Black Student Union. This event marks the beginning of the Spirit of Identity Week, a collection of events hosted by campus affinity groups that will culminate on Saturday the 21st with a celebration of different identities on campus.
The gala was chosen for this date to honor the work of civil rights leader Dr. Martin Luther King Jr. and his continuous legacy. Every third Monday in January, the federal holiday of MLK Day is observed. Previously in Fisher's history, this observance has been in the form of the Martin Luther King Jr. Coexistence Dinner. However this year, the five affinity groups on campus pushed for something longer than just one night. In explaining the intention of the week, Senior Diversity Officer Dr. Marlowe Washington said that identity is "beyond just diversity, but it is the full recognition of the total person. And the recognition of the total person to understand that each of us come with similarities, but we also come with differences. We should share our similarities and celebrate our differences."
With this event kicking off the semester, BSU President Lilliana Weldeslassie '24 has high hopes for the future of her club and Fisher as a whole. Weldeslassie said, "I think this is something that we're doing right. […] Seeing this event and seeing the other events[this week], we're getting back to normal and, most importantly, we're taking the power move to become something new, something Fisher's never seen before."
Crucial to this event was the keynote speech given by alumni Christopher Rush '12. Rush is now the Executive Director of Champion Academy in the City of Rochester, where he works mentoring and empowering teens in poverty.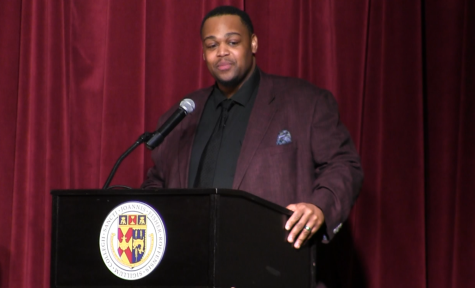 He described his time at Fisher as "pivotal," both for the education he was provided and the shock of coming into a space where his differences initially made him feel isolated. 
"What really pushed me in my dorm room was a series of laptop thefts my freshman year," Rush said. "When laptops went missing, an email went out to everyone on campus. […] 'The culprit was described as a 6'2, 300lb, African American male.' This day was filled with stares and awkwardness. I just felt everyone who looked at me thought that I was the one stealing laptops." This event made Rush feel uncertain of his place at the school, he said. But he also emphasized that Fisher eventually provided him a newfound sense of community, particularly after a community-engaged learning course at a women's shelter.
Part of the purpose of this event was to acknowledge the work done by Fisher students, faculty, and staff to further diversity, equity, and inclusion. Three awards were given: the Community Award, for a student who has made efforts to support their larger Rochester community in addition to their community at Fisher; the St. John Fisher Award, for a faculty/staff member who has used their work at Fisher to support all students they can; and the Inclusivity Award, for an organization at the University whose efforts make Fisher a home for its students.
Award winners were first-year student Isaiah Santiago for the Community Award, Director of Academic Student Support Dr. Michelle Erklenz-Watts for the St. John Fisher Award, and the Arthur O. Eve Higher Education Opportunity Program for the Inclusivity Award.
When interviewed about what progress she has seen in her 23 years at the institution, Dr. Erklenz-Watts said she has seen positive changes. "Just walking in here, I really got so teary-eyed just thinking about it, and especially when Christopher Rush was talking, thinking about the experience he had. […] We've never seen this kind of involvement with our affinity groups, and so I'm just hoping that it keeps growing and growing."
Legal Studies professor Jane Snyder expressed the feeling that "for too long there's been too much separation. And it's time to bring a collective order together and this is a way to bring people together. […] I think what needs to happen is more events like this, where we're bringing people all together."
In a closing interview, Christopher Rush shared the advice he would lend to current students: "It's important to understand that at the end of the day, we're all humans. We all have the same basic needs, and we're all here for the same reason: we're trying to get an education to advance our careers. If there's anything that we feel is stopping each other from doing that, we should address that and confront that." This mentality, especially at the 75th anniversary of Fisher's founding, can empower students to advocate for themselves and for others.
View Comments(1)
Donate to Cardinal Courier
Your donation will support the student journalists of St. John Fisher University. Your contribution will allow us to purchase equipment and cover our annual website hosting costs.