Cardinal Connection – Coach Spotlight: Ryne Morrison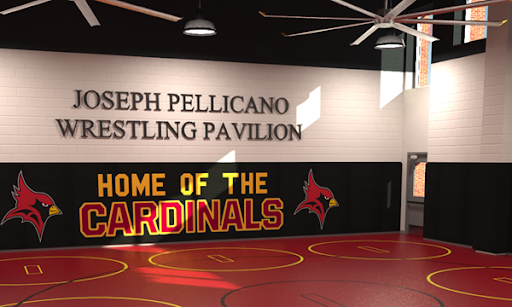 Wrestling is back at St. John Fisher University after a nearly 40-year hiatus. With a full roster of eager wrestlers and the new Joseph Pellicano Wrestling Pavillion, Fisher looks forward to a successful reconstructed wrestling program for years to come. Manning the ship is coach Ryne Morrison, who I had the chance to interview.
Q: What has it been like transitioning from an assistant coach to a head coach?
A: Any transition in coaching has its challenges. As coaches, we have to wear many different hats. From recruiting, fundraising, academic support, building relationships, and preparing our guys to win wrestling matches. Each of those requires different skills and I had the opportunity to have my hand in all of those responsibilities. But as a head coach, you have to be able to weave those responsibilities together into one coherent unit. And put yourself around the right people to offset my weaknesses as a coach. So I am incredibly grateful to Coach [Michael] Jacobs, Coach [Alex] Ekstrom, and our student-athletes for making my life so much easier.
Prior to Fisher, Morrison was an assistant coach at Adrian College where he helped rebuild a program that was struggling initially. He did an excellent job recruiting because he had a few wrestlers that would go on to qualify for the NCAA Championship. Adrian had multiple winning seasons and ranked nationally during Morrison's tenure.
Q: With this year being the first year wrestling has been back at Fisher, have there been any challenges that have come with that?
A: There are challenges in any program and being a first-year program is not an exception to that. We are a very young group and with that comes growing pains. Our student-athletes have done an unbelievable job in their effort, competitiveness, and controlling what they can control. Our first challenge was building the culture around this program. I am grateful for how quickly they bought into our values, the connection they have with each other, and the level of trust within the program. After the culture, the biggest challenge for this group is setting the foundation for the future. They are setting the standard for this program in training, in the classroom, and in the championship lifestyle that we expect them to live every day.
Twenty-eight athletes fill out the 2022-2023 wrestling roster for Fisher, with 18 of them being freshmen. They will forever be a part of St. John Fisher's wrestling history and will be known as the team that helped re-establish the program. As Morrison mentioned, these athletes set the standard for the wrestlers that follow them.
Q: During your time coaching at Adrian College, what were the keys to your coaching success?
A: At Adrian, I was lucky to be around good people. Success comes from the level of character and culture within the program. Recruiting student-athletes that are tough, gritty, competitive kids helped us go from an 0-15 team to a nationally ranked top-20 team in the country in a few seasons. All of the credit for that success goes to the student-athletes and the athlete leadership within that program.
Morrison hopes to continue the recruitment success he had at Adrian with Fisher. Morrison was surrounded by great wrestling minds at Adrian. One of those people is current Adrian wrestling head coach Bill Schindel, who has won multiple Ohio Athletic Conference Coach of the Year awards and also helped turn the program around. Being surrounded by wrestling was definitely not a new thing for Morrison though, as he went on to talk about his youth and his love for the sport.
Q: Did you always know you wanted to be a wrestling coach?
A: Growing up, there was no playing basketball in the Morrison household. We were a wrestling family and it's where my passion for the sport started. This sport has been a part of my entire life, and when I finished my competitive career, I knew I could not let wrestling go. But I did not think coaching was going to become my career. I was fortunate to be in the right place at the right time. Once I was offered the opportunity to start coaching college wrestling, I knew that this was what I was put on this earth to do.
Morrison went to Governor Livingston High School in Berkeley Heights, New Jersey. He had a very successful high school wrestling career there and then went on to attend Ursinus College where he wrestled for four more years. One of the best years in Morrison's wrestling career was at Ursinus during his senior year. He was named a captain and also named to the All-Pennsylvania State Athletic Conference team. This combined with being a scholar-athlete gave Morrison the tools to succeed as a head wrestling coach.
Q: What do you think is the most rewarding aspect of coaching?
A: For me, it comes down to relationships. To be a part of our student-athletes development is the most rewarding part of the job. You get a front-row seat as guys accomplish their competitive goals, graduate, reach career goals, get married, and start families. So to be a part of that development in producing successful husbands, fathers, and productive members of society is a blessing. And you hope that your relationship has a positive impact on that success in and out of the sport.
Morrison looks to continue to develop the wrestlers at Fisher not only on the mats but off of them as well. He serves as someone that the athletes are educated by, and also someone to lean on. Coaches are often some of the most important people in the lives of young athletes everywhere.
Q: Moving forward, what do you hope to accomplish with the program?
A: I hope we can continue to bring high-character individuals into the program, and put them in a culture that gets the best out of them, and that translates to consistent success at the National Tournament. We are in a position to eventually be a premier program in the state and nationally.
Morrison and the rest of the wrestling staff have built the groundwork for a successful future. It's also safe to say that the program is in good hands with Morrison. He has always been around wrestling and looks forward to continuing coaching successful athletes for years to come.
Leave a Comment
Donate to Cardinal Courier
Your donation will support the student journalists of St. John Fisher University. Your contribution will allow us to purchase equipment and cover our annual website hosting costs.