Braun: A Thank You From the Editor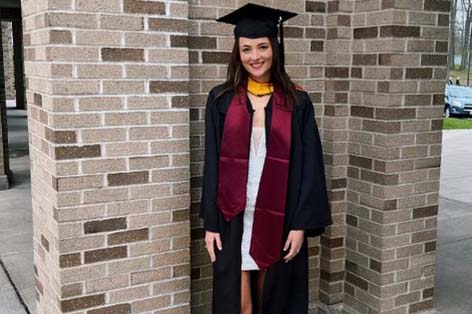 Dear reader,
I want to begin by thanking you for supporting the Cardinal Courier this year. As the campus's student newspaper we work hard to report the current events and news going on within the college.
This academic year was the first time our organization was able to meet in person, face to face since before the start of the pandemic. After meeting on Zoom the entire year prior, we were all excited to finally hold our pitch meetings without any technology disruption and finally have open brainstorming sessions together.
At the beginning of the spring semester there was a major shift on campus. Mask and social distancing restrictions were finally lifted, and we were all able to see each other.
The pandemic brought many challenges to our reporting, a lot of interviews for articles were held on Zoom. However with the challenges, our team quickly adapted and learned how to report to the best of our ability given the situation.
As a team we were able to transform the Courier this year. Being together in person made it so we could think of our ideas and talk them through together. We worked hard to maximize the digital presence of the organization on social media and online.
The past three semesters as Editor in Chief have been very rewarding for me. I have learned so much about reporting techniques and best practices from our advisor, Olivia Lopez. Additionally, it has been a pleasure working with a team dedicated to getting Fisher news out in a timely manner. 
As I look forward to my future, I can say with confidence that so much of my writing development came from my time at the Cardinal Courier. I am now pursuing a career in journalism as a Digital Content Producer, a career I didn't know existed until I joined the Courier.
With the end of the '21-'22 academic school year, I leave the Courier with the feelings of excitement and confidence in the team of students that are part of the organization. 
I am so excited to see what great things the students will do. After hearing their plans for Courier for the coming semesters, I know the Courier will only continue to grow and flourish and I look forward to continuing to read the articles.
I am so proud that I was able to have a role during such a crucial time in this organization. 
Thank you,
Kelsey Braun, Editor in Chief
Leave a Comment
Donate to Cardinal Courier
Your donation will support the student journalists of St. John Fisher University. Your contribution will allow us to purchase equipment and cover our annual website hosting costs.