By Madison Weber '23, Staff Writer and Social Media Editor
This semester, St. John Fisher College's parking policies shifted from lot specific for residential students, to a first come first serve basis. In previous years, residential students were assigned to a specific lot and parking outside of that lot would result in a ticket.
Before, lots were assigned based on the number of credits, so sophomores and juniors would often end up at Murphy, and seniors were more likely to get the lot in front of Dorsey.
"Students would be walking all the way from Upper Quad to Murphy on weekends where there were 20 spots open closer just because of where they were assigned," Brock Glann, the Assistant Director of Campus Security said. Glann added that as students reached out to Safety and Security asking for a change, they began to track the amount of cars in lots, and noticed that there was a trend of students parking unnecessarily far away.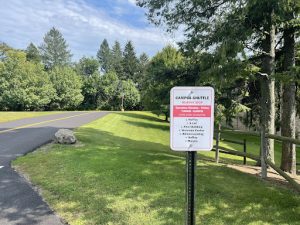 Safety and Security met with SGA and several other student organizations to talk about the change, and received support. As a result, they worked with their partner Nazareth College to make the change, because they implemented the same one a few years ago. 
The policy adjustment will only affect residential students, who can now park in any open spot in any residential lot. Even the lot near Upper Quad and Keough that used to be for RAs only, is now available to any resident student. However commuter students, Glann clarifies, may have a more difficult time finding spots in close lots this year due to the fact that as the school returns to all in-person classes there will be more people on campus.
"We've had years where every spot on campus is taken, and this is not one of them. However the past few semesters have had less people on campus — both students and faculty — and people probably aren't used to that. It has nothing to do with the change to the parking policy." 
For transfer student Cora Blunden, because this is her first year at Fisher she doesn't know the old system. Blunden parks in front of Dorsey (her residence hall) and said parking has been good so far, but is hesitant to move her car as she knows she would likely lose her highly-sought after spot. 
As a new transfer student, Blunden wishes that safety and security had included a map of the residential lots as she "had a hard time finding out where the lots are that they were talking about."  
Junior, Rocco Quatela, is an RA in Ward and feels parking has been a "little bit better" this year and appreciated the "flexibility of being able to choose a lot to park in." He admits that while finding a spot at night is fairly easy, but "during the day it's almost impossible." 
This has led to people living in Ward or Haffey needing to park by Murphy or in S-lot which is a long walk. Overall, Quatela likes the policy change as, while it may not be perfect, it at least gives him the opportunity to park closer. "It's not as much of a trip to go grocery shopping or get off campus."
Glann urges students who may use their car less frequently than others to consider parking in a further away spot to leave close spots for students who may have an early-morning clinical or who do need their car often. He also reminds students that the campus shuttle is back this semester so individuals parking farther away can take advantage of that, as well as the fact that Safety and Security is available 24/7 for student escorts and transportation if called. 
As with any new policy, there have been a few bumps to smooth out the first week of school, but Safety and Security expects everyone to have their parking permits by now and will now start strictly enforcing the new policy. Parking tickets from last year and the old policy have carried over, but can be appealed online. 
Residential permit holders may park in the following residential lots: J, P, S, T, U, V, W
 Commuter permit holders may park in the following commuter lots: A, C, F, I, S, Z