Yes, it is exactly what it sounds like! Fat Bear Week is an annual tournament that is held every October to celebrate the survival and a successful hibernation season for brown bears. The tournament pits Alaska's Katmai National Park and Preserve brown bears against each other in a bracket-style competition, allowing the public to vote online for which bears they think best prepared for a successful winter hibernation. 
During the course of the week, explore.org hosts live events where virtual visitors can learn more about the lives of the individual bears in the competition and their histories, as well as familiarize themselves with Katmai's ecosystem.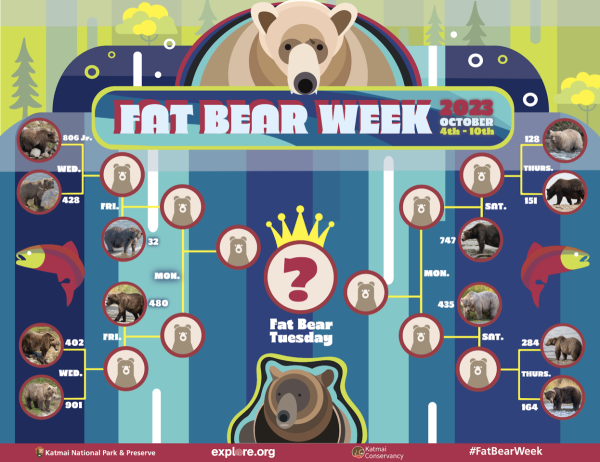 There are 12 bears in the competition and will each be matched up with one other bear in a bracket. The bear that wins each bracket will continue to move on through the competition until the winner is crowned on Fat Bear Tuesday, Oct. 10. 
Bears need to fatten during the summer months in order to survive their winter hibernation. They lose up to a third of their body weight in hibernation from not eating or drinking. The brown bears in Katmai's National Park feed on salmon at the Brooks River from late June through mid October, one of few rivers in existence that provide them the opportunity to feast for that long. An adult male bear in Katmai can weigh over 1,000 pounds by the fall. 
There are eight cameras to watch the bears, including two at the falls, their prime fishing spot (which I highly recommend). 
Voting participation has significantly grown since its kickoff in 2014, with more than a million votes in the 2022 tournament. Bear 747 was crowned the winner for the second time last fall, weighing in at an estimated 1,400 pounds. Photos of each year's winner can be found on Katmai's Flickr Page. 
You can vote for who you think is the fattest bear at https://explore.org/fat-bear-week between 12-9 p.m. Eastern through Oct. 10! Remember: the bigger the bear, the better! It means they've been the most successful in preparing for their long-term nap!