Monumental Moments: Judy Goonan Discusses the First Female Class of Fisher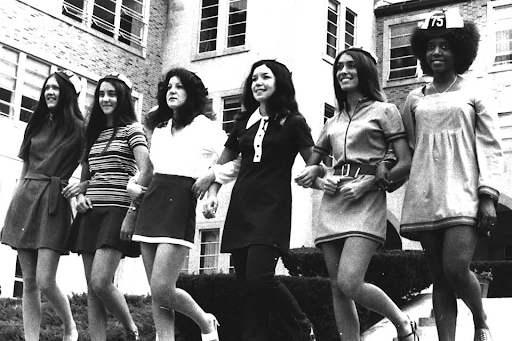 As we continue our series celebrating St. John Fisher's 75th anniversary, we will be interviewing alumni, faculty, staff, and students. This week, Cardinal Courier features alumna Judy Goonan '75, who was a part of the first official female class of Fisher.
When she arrived on campus, the community at Fisher was eager to welcome her and her fellow students. Goonan said that starting college is an exciting moment for every incoming freshman, and having never started at a school that was already co-ed, she had no real comparison for her experience. However, she emphasized that "it was really very, very exciting. It really was, and it did feel monumental."
While there was much fanfare for the first day of her class, Goonan said that "it felt very natural to be immersed into the community." She described a blend of academic and social life that cemented her place at Fisher.
Goonan studied mathematics and psychology, both fields she says helped her in both her professional and interpersonal development. "I left … with an excellent education, but with a lot of confidence as well," she said.
"I think what the math gave me is, you know, very logical reasoning abilities," Goonan said. While some of the complex math didn't necessarily apply to every job, she said that "the methodology of solving problems and the logical thinking absolutely did."
For her psychology studies, she felt a substantial effect for her everyday skills. Goonan said that the lens of psychology "helps you improve your relationships with others. … You try to understand another person."
In terms of student life, there were the typical activities like games and concerts that have remained part of Fisher's culture. But Goonan most fondly remembered spending time with her fellow students, working on their academics. In what is now known as Cleary Auditorium was the "Campus Club," a cafeteria where students frequently gathered. Goonan would meet with other math majors to work on difficult, complex problems. "Having that camaraderie and assistance of all of us working together was a positive experience, socially, academically," she said. "It's something that you carry through as you enter your professional career … that you can benefit from the help of others."
While at Fisher, Goonan also worked in the computer science lab, helping her peers with their courses. This helped her in her first job at Eastman Kodak in computer technology. Goonan's experience taking on elaborate technology during a period of rapid change in the field continued after her graduation. "Computers were just coming into being," she said. There was a sudden shift to use this technology for a multitude of fields, including developing computer programs to be incorporated into general sales. Before retiring, Goonan was able to help usher this technology into work on the Internet, a tool that has certainly changed our world.
When looking back on Fisher, Goonan felt appreciative of her time, but she also drew attention to how the campus has shifted since her attendance. In a closing word, she said, "it's a great place, and the way it's grown is incredible. I mean, it's just incredible."
Leave a Comment
Donate to Cardinal Courier
Your donation will support the student journalists of St. John Fisher University. Your contribution will allow us to purchase equipment and cover our annual website hosting costs.