2023 Rochester Bar Review
Madison Weber '23, Staff Writer and Social Media Manager
January 25th, 2023
Author's Note: all content in this article only applies to individuals ages 21 and older. The Cardinal Courier does not endorse underage drinking or bear any responsibility for any individual's actions after publishing.
The City of Rochester is  home to many young people, and as a result, is home to many bars that also cater to the twenty-something population. In this article, I'll be looking at some good local options to consider when you and your friends are considering where to go this weekend (after your homework is done, of course).
Blu Wolf is a great option for both food and drinks, boasting both a full bar and an extensive food menu (that's actually good). In addition to being open as a weekend staple , on Wednesdays the Blu Wolf Bar and Bistro is home to some of the best karaoke on Park Avenue. No matter when you go, the odds are pretty high that you'll run into some Fisher friends from class! They are open until midnight every night of the week, but are also open most of the day as they are a fully-functioning restaurant. 
Madison's drink recommendation: bring some friends and invest in a fishbowl. It's actually a good deal when you split it amongst a few friends, and will result in a good time.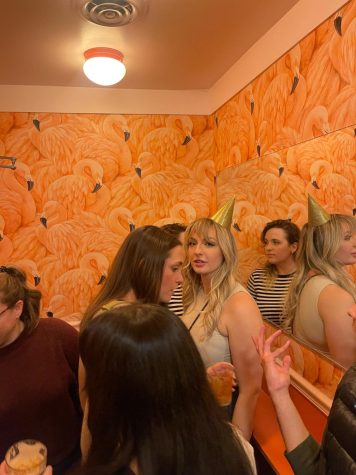 Another option with a spectacular food menu (this is very important because a lot of bars offer food, but not all bars offer good food), this bar is the quirky indie bar of your dreams. From the bright pink and blue color scheme, to the bar stools reminiscent of roller coaster seats, you'll be able to capture the cutest instagram pictures. Their drinks range from fruity (my favorite), to the classics, to bourbons and whiskeys. In my opinion, enjoying a slice of their pizza after a long night out could be considered a spiritual experience.
This bar is larger and offers two bars to be seated at, as well as plenty of upstairs seating and a swanky lounge. The bathrooms at this place offer some of the best lighting and flamingo wallpaper to provide the best setting for bathroom-break group selfies.
Madison's drink recommendation: the Sunset Spritz is fabulous, although you really can't go wrong here. The Permanent Vacation is another really good option, and you get a cute slice of pineapple to enjoy! These bartenders are typically very good, and if you tell them what types of things you like they won't hesitate to make you a "mystery" drink that you'll probably love. 
Dragonfly is a great place to check out if you and your friends don't care about a cocktail menu, and want to be in close proximity to several other bars (Public House, Blu Wolf, Magpie Irish Pub). Near the corner of Berkeley and Park, this location offers the opportunity to drive or Uber to one location and have several good bars to choose from. Additionally, they offer a pizza menu that definitely hits before heading home for the night, and two machines to play darts with. I do recommend heading to this bar later in the evening, as you want to wait for people to get there.
Madison's drink recommendation: Dragonfly offers both affordable draft and mixed drinks. Personally, I tend to opt for either a Sex on the Beach, or a Malibu pineapple. Yes, I am aware that these are incredibly basic, but they both taste delicious and I stand by them. 
This camping-inspired bar with a vintage atmosphere is a summer classic; and although it's currently January, it's so good I still had to include it here. Built like an outdoor campground, it has an extensive beer and cider menu while also offering mixed drinks. The venue is mainly outdoors which is perfect for a warm summer night, and has plenty of room to dance, mingle, and have fun. They also offer a separate area with picnic tables and yard games, and often have live music. Colorful lights and vintage painted campers are all over the venue, and dogs are welcome as this is an outside bar! This is another location where you will very likely see Fisher students all over the place.
Madison's drink recommendation: I love getting a fruited ale or sour when I'm here. Honestly, I'm not a huge beer drinker, but when in Rome, I do my best to partake in the Beer Park culture. They offer really good drinks from both local and larger company cideries and breweries.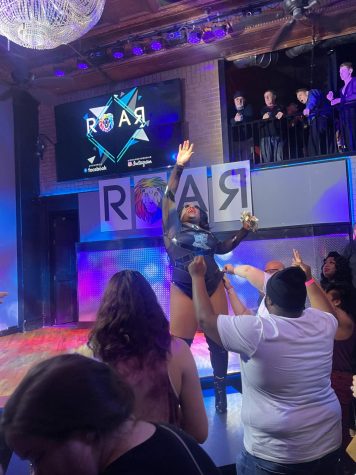 Roar opened in 2019, and has quickly become a staple in the bar community in Rochester – especially  in the hearts of the LGBTQ+ community in Rochester. Although, that's not to say they don't have something for everyone; from drag shows, to pole dancing lessons, trivia, adult film actors, DJ's, and more. With the tagline "something for everyone," Roar includes a full bar and kitchen with options for a variety of dietary needs.
Go to one of Roar's drag shows and you can expect adult dancers around the outside, and a whole host of fun activities and interactive dances and DJ's. As a straight woman, I still love going to a good drag show on a weekend night. The staff at Roar is truly dedicated to creating a fun but safe and welcoming environment for all patrons, as well as the other customers.
Madison's drink recommendation: I highly recommend the Roar slushie. They come in both yellow and red. I'm honestly not even sure what type of alcohol is in them, but they taste amazing and you get one of those fun, colorful straws.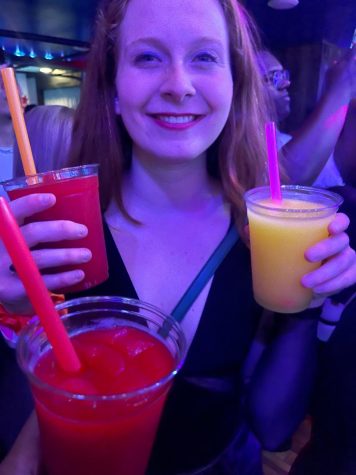 If you're looking for the perfect place for a Valentine's date, Apogee Wine Bar might be it. They offer a large selection of wines, including reds, whites, and mixes. They also offer a beer menu. One of the things I love most about their menu is the way that they separate the food offered into "dessert" or "savory" options, to guide customers in pairing their food and wine. Apogee also offers a cake from Scratch Bakeshop every week, which is always a delicious option to pair with your glass. With a slightly dim ambience and lots of soft pillows to sit on, it really is the perfect place to stop after dinner when you're not quite ready to go home.
Madison's drink recommendation: I love a white wine or rose! Especially the Henry Varnay, Brut Rose. It's a nice sparkling rose that is light and delicious. The "Circle" Riesling from the Finger Lakes is another great option that's not too sweet. 
Filgers East End is popular pretty late on Saturday nights, and if you go at a later time you're sure to see people you know. This is one of those bars that feels sprawling, so make sure you keep an eye on your friends or you'll lose them. Their drinks are fairly affordable, and this is another place I would order something easy; such as a vodka soda or sex on the beach. Because Filgers is on the corner of East and Alexander, it's in close proximity to several other bars (Recreo, Murphy's, Wall Street, etc.) so if it's feeling dull or you want to hop around you totally can without breaking the bank in Uber fees.
Madison's drink recommendation: coming here I love getting something light and easy, like a vodka soda or a gin and tonic. Especially because I'll likely be walking around in swathes of people, I try to stick to something that if I spill a little on myself or someone else it won't ruin anyone's outfit. At Filgers East Ave, I'm there for the people and not the craft cocktails. 
As a self-proclaimed dessert aficionado, I have a soft spot for Caramel Bakery and Bar. Located near the corner of Culver and Park, it's close to several other bars (Dragonfly, Public House, Blu Wolf, etc), again saving your wallet from the expensive Uber fees.
What I love about Caramel is their bar, but also their paired and curated dessert menu. According to their website, they do their best to source their alcohol locally, showing patrons what Rochester has to offer. All desserts offered are made in-house by their pastry chef, and they typically offer options for several different dietary restrictions. This is another place that would be perfect for a date or an intimate gossip session with a close friend. If you've ever finished dinner and wished for a "sweet treat" this is the place to go.
They do also offer a savory section of the menu, in case you're trying to hit your protein goals or are (somehow) not in the mood for a cupcake. Aesthetically, Caramel is the perfect place to go if you want to take cute pictures with your friends for Instagram.
Madison's drink recommendation: the Blue Crumble is a yummy cocktail that fits into the dessert theme in the rest of the restaurant. Made with BB Vodka, lemon juice, blueberry crumble simple syrup, and aquafaba, it tastes like an alcoholic blueberry muffin. What's not to love?
—
At the end of the day, there's no shortage of good bars in Rochester for you and your friends to choose from. Whether you're looking for something smaller and more intimate, or a massive dance floor to have fun on, there's a bar for you. No matter where you go, be sure to stay with friends, drink responsibly (or not at all), and keep your head on a swivel. And above all, be sure to have a designated driver or Uber home!
Leave a Comment
Donate to Cardinal Courier
Your donation will support the student journalists of St. John Fisher University. Your contribution will allow us to purchase equipment and cover our annual website hosting costs.
About the Contributor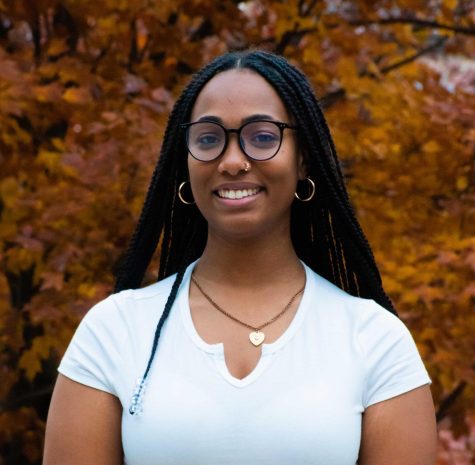 Nya Robinson, Staff Photographer
Nya Robinson is a Senior Media and Communication major here at Fisher. She has always had the passion for the arts and as time went on, she grew even more...