The New Face of Fisher? My Experience Participating in the Fisher Marketing Campaign
By Erin Dickinson '24, Staff Writer and Editor in Chief
November 8th, 2022
On Tuesday, October 25, I participated in one of many shoots for the new St. John Fisher University marketing campaign, overseen by Rochester-based marketing agency Dixon-Schwabl.
All students received an invitation via email to participate in an open casting call for the campaign on Tuesday, October 11. From those who attended the casting call, the team selected students to appear in photo shoots, video shoots, or both. In my case, I participated in a photo shoot and one scene for the commercial.
I received word that I had been chosen to participate the night before the shoot when a Dixon-Schwabl team member texted asking me to appear the next day at noon. I was given very few details; the only guidelines I was given on dress code were to avoid neon, sweatpants, or any clothing that said "St. John Fisher College" and not " St. John Fisher University." With these instructions in mind, I went to bed early; every actress needs her beauty sleep, right?
The next day, I arrived at Pioch 101 right on time, excited but not knowing what to expect at all. Within the next few minutes, a handful of other eager, yet unsure-looking students filtered into the room, and it was time to begin. We were greeted by a producer, who gave us a rundown of what to expect in the hour and a half we were slated to spend on the shoot.
The producer informed us that we would be shooting a few outdoor photo series, before returning to the classroom for a short video scene. As we were told to act naturally and avoid looking directly into the camera, hordes of crew members began to enter the room. With them came carts piled high with cameras, lighting equipment, and more wires than I'd possibly ever seen in one place.
I was immediately reminded of my high school trivia era when I was (embarrassingly enough) the captain of the Whiz Quiz team. Every fall, we would travel two hours to Watertown on a school day to compete against another school in a televised competition. If we won, we would get to come back for another round the next week. As the makeup artist gave me a quick touch-up and crew members began to set up cameras and lighting rigs, I felt the same excitement that I did in my Whiz Quiz days – the same excitement that made me choose to become a Media and Communication student.
There was just one thing that killed my high spirits: the heat. I am an unlucky person to the point that it's laughable, so being scheduled for an outdoor shoot on the only 75-degree and sunny day in October was just par for the course. Even the matte powder that the makeup artist kept swooping in to dust our faces with was no match for the sweat dripping from our foreheads, made even worse by the Fisher sweatshirts we were all lent for the shoot.
After about 10 minutes of waiting for the crew to set up the equipment, it was time for our first shot. For this scene, the student actors were joined by Professor Özge Kantaş of Fisher's psychology department in a staged outdoor class. As we gathered around a picnic table in Lechase Commons, surrounded by cameras and light reflectors, we pretended to be deep in thought about psychology or whatever subject we were supposed to be in "class" for. In actuality, we were cracking jokes about each other's majors, complaining about the heat, and getting to know each other.
After the outdoor class shot and an awkwardly posed photo with the steeple in the background, it was time to head inside for our video shoot. The producer explained that the shot's purpose was to show that professors at Fisher are easily accessible after class for students who might have questions or concerns. Of the six of us, one student was chosen to be staged speaking to the professor "after class." The rest of us were positioned throughout Pioch 101, simply gathering our bags and exiting the classroom when the producer called "action."
Sounds easy, right? Wrong. For one, we did 10 takes of the scene. Anyone who has ever been in Pioch 101 knows that the classroom is set up like a mini lecture hall, with stairs leading to each row of seats. I was positioned in the top row, meaning that I walked down the stairs and back up 10 times in a row. All I will say about that is that I quickly canceled my plans to work out later that day.
The fatigue wasn't the only part of the shoot that was difficult. Did you know that there is a wrong way to grab a tote bag, walk down a flight of stairs, and leave a room? As I found out, there isn't just one wrong way to do it – I managed to find at least three ways to leave a room that warranted a correction from the crew. Next time you're walking out of class, make sure your hair isn't caught under a bag strap. Then, if you're carrying a Hydroflask, you had better make sure the logo isn't facing outwards. Finally, if you aren't smiling, you are definitely doing it wrong. Who knew?
After 10 trips up and down the stairs, we had finally reached the end of the shoot. We each signed a model release waiver, giving Dixon-Schwabl permission to use the footage for the campaign as they see fit. And just like that, my 15 minutes of fame were over.
The campaign release is slated for January, and I'm looking forward to seeing my face on the screen. I am a big believer in trying anything twice, and for a first shot at being in a commercial, I would rate my experience a solid 10/10. There may never be a second time around, but that's the beauty of college; it's the perfect time to put yourself in situations you may never get to be in again.
Don't worry, I'll still remember you all when my half a second of fame goes directly to my head and I convince myself that I'm famous… maybe.
Leave a Comment
Donate to Cardinal Courier
Your donation will support the student journalists of St. John Fisher University. Your contribution will allow us to purchase equipment and cover our annual website hosting costs.
About the Contributor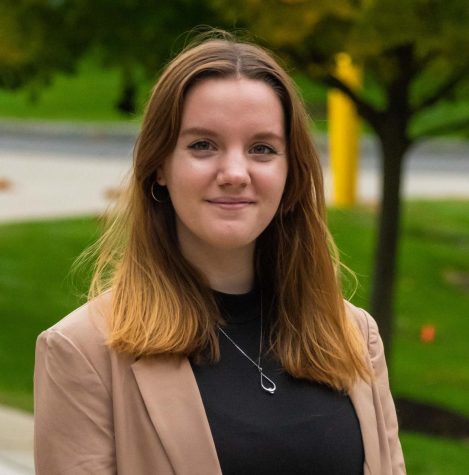 Erin Dickinson, Staff Writer
Erin Dickinson '24 – Cardinal Courier (cardinalcouriersjf.com)