Hocus Pocus Handbook: A Tiny Guide For A College Fall
By Brooke Eastman '25, Staff Writer
October 23, 2022
Fall is at its peak right now, so if you haven't immersed yourself in the season of PSLs or aesthetic Instagram pictures just yet, there's still time. Here's a list of some fall-themed festivities (amongst other things) to make it feel like prime October.
Places to Visit:
Power's Farm Market – 161 Marsh Rd, Pittsford
Perhaps the closest to Fisher, and one of the most popular places to visit during the fall season. Power's has a small pumpkin patch, a teepee walkthrough with spooky decorations, a store with locally made baked goods (the cookies and donuts are a must-try) and other various items, and its infamous photo op outside. The market has animals such as alpacas, ponies, chickens and pigs that you can feed, and a Halloween hayride for $7.50 during the day (price may vary after dusk). The market is currently open Monday-Wednesday 9 AM to 6:30 PM, Thursday 9 AM to 8 PM, Friday-Saturday 9 AM to 9 PM, Sunday 9 AM to 6 PM.
Wickham Farms – 1315 Sweets Corners Rd, Penfield
Another popular choice for locals in Rochester this time of year, Wickham Farms offers many attractions for fall. The farm includes a corn maze, farm animals, hayrides, giant checkers and lawn games, apple-picking, as well as the many Insta-worthy photo ops scattered throughout. Wickham also has several food stands. One of its most-ordered menu items are their signature Fall Shake Ups, "the perfect combination of apple cider slushie, creamy vanilla ice cream, and a fresh cider donut on top!," according to their website. Ticket prices are $13.95 for Barnyard admission, $19.95 for Barnyard and Apple Picking admission, and $10.95 for Apple Picking admission. The farm is open 10 AM to 7 PM everyday and closed on Wednesdays.
Long Acre Farms – 1342 Eddy Rd, Macedon
Long Acre Farms is home to New York's longest-running corn maze, since 1993, The Amazing Maize Maze. The Farm Market, ice cream shop and play areas are open daily from 10 AM until dusk according to their website, and the corn maze is open Friday nights only, allowing teams to stay in the maze as long as needed until 11 PM, when the maze closes. Tickets for the maze are $20 per person online and $23 per person at the gate. The farm itself is open 10 AM to 7 PM daily and 10 AM to 9 PM on Friday.
VerHulst Haunted Hayride – 5161 W Ridge Rd, Spencerport
VerHulst Haunted Hayride replaced the Haunted Hayrides of Greater Rochester, located in Cobble Creek Farm. The Halloween hayride is first come, first served and is open every Friday, Saturday and Sunday in October except Halloween night. The ticket booth opens at approximately 6:30 PM until 10:30 PM Friday and Saturday, and until 9:30 PM on Sunday. According to the hayride's information and hours page on their website, wagons leave the barn around 7:25 PM but leave earlier as the month progresses. It is roughly a 35-minute experience that includes a haunted corn maze at the end of the ride. The cost to ride is $28 per person and is cash only.
Foods to Try:
Cinnamon Sugar Fried Cakes—Schutt's Apple Mill
Pumpkin Cream Cheese Muffin—Starbucks
Pumpkin Bread— Leo's Bakery & Deli
Snickerdoodle Cookies (or any of the other flavors honestly)—Power's Farm Market
Pumpkin Vanilla Twist Soft Serve Ice Cream—Pittsford Dairy
Pumpkin Ravioli—Trader Joe's
Caramel Apple 3 Layer Cake—Wegmans
Drinks to Try
Pumpkin Cream Cold Brew—Starbucks
Cinnamon-dolce Latte— Starbucks
Hot or Iced Apple Crisp Oat Milk Macchiato (bonus points if you add caramel drizzle to it)—Starbucks
Dirty Chai (regular chai but with espresso)—Starbucks or wherever else you get your chai
Peanut Butter Cup Macchiato—Dunkin Donuts
Apple Cider—Schutt's Apple Mill (basic drink but getting cider from the right place is crucial!)
Movies to Watch:
*I am not a horror fan so this may not be your kind of list! These are subjective and are just classic Halloween favs if you spend more time scrolling for things to watch than actually watching, like me!*
Hocus Pocus (& Hocus Pocus 2)—Disney+
The Haunted Mansion—Disney+
Coraline—Amazon Prime Video
Hotel Transylvania—Hulu
Corpse Bride—HBO Max
Halloween Ends—currently playing in theaters or available on Peacock
The Nightmare Before Christmas—Disney+
Nope—Amazon Prime Video
Scary Stories to Tell in the Dark—Netflix
IT—Netflix
A Nightmare on Elm Street—HBO Max
Fresh—Hulu
Scooby-Doo—Netflix
Beetlejuice—HBO Max
Scream (1996 & 2022)—Paramount+
——
These are just a few suggestions, if you find something different you enjoy or want to try, even better! Grab a friend or a few, carve or paint a pumpkin, throw a movie night, try a fall-flavored recipe, order a seasonal item from a place you like, take a hayride, do what makes you happy. There's still time to enjoy Spooky Season to its fullest! If you plan on celebrating, have a happy and safe Halloween!
Leave a Comment
Donate to Cardinal Courier
Your donation will support the student journalists of St. John Fisher University. Your contribution will allow us to purchase equipment and cover our annual website hosting costs.
About the Contributor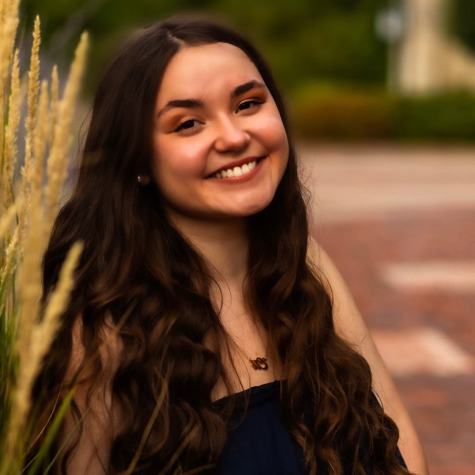 Brooke Eastman, Managing Editor
Brooke Eastman is a sophomore Media and Communications major at Fisher. She is a Rochester native, and has always had a strong passion for writing. She...