Shana Tov-Yum!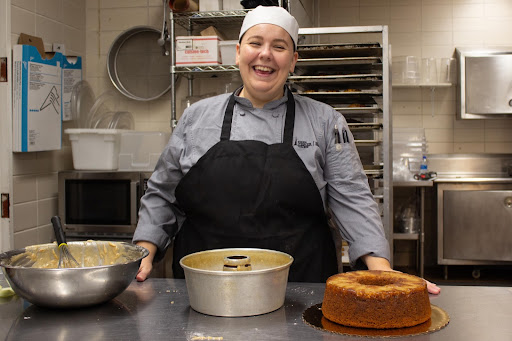 By Mia Lindenburg '23, Staff Writer

September 25th, 2022
Tonight at sundown marks the start of Rosh Hashanah or the Jewish New Year. While many different traditions exist across the global Jewish community, food is always a uniting force.
St. John Fisher University pastry chef Allison Marcello orchestrates the baked goods on campus along with co-worker Julie Gallinaro. Tucked away behind the Murphy Sub Shop, Marcello and Gallinaro work tirelessly to prepare treats such as the coveted Cyber and Pioch cafe muffins, and even the monthly birthday cakes. Some baked goods, like many of the bread, come from trusted local sources.
Marcello's favorite holiday dish is her family's Easter cassata cake, a traditional Italian cake made with ricotta cheese. "My aunt makes hers with a rich pound cake, sweetened ricotta, dark chocolate shavings, and crushed almonds."
For beginner baking, Marcello recommends getting all your ingredients in order ahead of time. She set up the counter in what's called mise en place, a French phrase meaning "everything in its place." Having ingredients measured out ahead of time helps cut down on time during the baking.
Marcello explains that she separated her ingredients into only two categories: wet and dry. "This recipe is basically like a quick bread, which would be like banana bread, zucchini bread, so you can basically just toss everything in there," she explains.
She starts by putting three eggs into the mixing bowl, then quickly adding brown and white sugar. Marcello recommends packing the brown sugar tightly beforehand.
After the sugar and eggs, Marcello adds the essential ingredient: honey, sweetening the new year.
After the honey, Marcello adds oil with a bit of vanilla extract mixed in. "Vanilla tends to bring out flavors a little bit," she explains. "… Generally speaking, we add vanilla to almost everything in the bake shop, unless we're really trying to highlight another flavor. Honey is a pretty strong flavor, so the vanilla would just complement it."
Finally, she adds the dry ingredients, including cinnamon and allspice. This simple spice mix accentuates the flavors of apple and honey without being too overpowering.
When adding flour, Marcello says avoiding overmixing is crucial. "You don't want to overmix it too much, because it's basically the difference between a cake and a bagel. A bagel is nice and chewy, so if you mix it, mix it, mix it, [the gluten] just holds on together," she explains.
Now that the cake is mixed, it's time to prepare its presentation. Marcello decided to design this cake after a pineapple upside-down cake.
She puts a piece of cut-out parchment paper in the bundt pan and then spreads brown sugar carefully over it. She then layers her apple slices on top of the sugar, putting each slice just slightly on top of the other.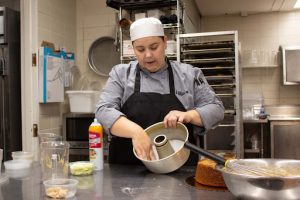 "As the apples cook, they'll release all that apple juice and have a really nice fall flavor," Marcello explains.
Tip from Allison! To avoid browning pre-cut apples, take a lemon and squeeze it over the slices.
With the apples placed and the batter all mixed, Marcello pours the batter into the pan and spreads the top to even it out.
The cake goes into the oven at 350 degrees Fahrenheit for 45 minutes, although that time may differ slightly by the oven. Marcello suggests home bakers test to see if their cakes are ready early by poking the cake with a toothpick or knife. If it comes out clean, the cake is ready to eat!
"Researching this cake, I actually learned a ton about Rosh Hashanah that I did not know! So, that part is my favorite thing about baking. You can learn more about cultures, you can learn more about how cooking is so important in different cultures, and some less so."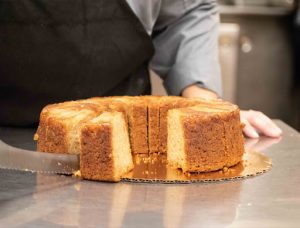 This cake can be found Monday night in the Ward-Haffey dining hall. Come try it!
RECIPE BELOW:
Honey Apple Cake
2 Medium Apples
3 Tablespoons Brown Sugar
3 whole Eggs
1 ¼ Cup Canola Oil
¾ Cup Honey
½ Cup Sugar
1/3 Cup Brown Sugar
2 Teaspoons Vanilla Extract
3 Cups All Purpose Flour
1 teaspoon Baking Powder
1 teaspoon Baking Soda
1 teaspoon Salt
¼ teaspoon Allspice
2 teaspoons Cinnamon
3 Cups Shredded Apples
Preheat the oven to 350 degrees

Prepare your baking dish by lining the bottom with parchment paper and spraying all sides well
with pan spray. (You can skip this step if you do not have parchment paper. Just be sure to spray
the bottom of the pan well with pan spray)
*This recipe will fit in a 10" round bundt pan. You may use a different pan depending on your
preference just be sure to only fit it ¾ full.
Peel, core and slice the two medium apples into ¼" thick slices

Sprinkle the bottom of your prepared baking dish with the 3 Tablespoons of brown sugar

Place the apples in a single layer on the bottom of the pan. The edges may overlap a little. Set
the pan aside while you prepare the cake batter
In a mixing bowl, combine the eggs, oil, honey, sugar, brown sugar and vanilla and mix with a wire
whisk until combined
Sift together the flour, baking powder, baking soda, salt, allspice and cinnamon.

Shred your apples by first peeling the skin then grating using a box grater.

Combine the egg mixture with the flour mixture and shredded apples
Mix using a folding motion until the batter is just combined

Pour batter over the apple slices in the bottom of your pan

Bake at 350 degrees for 45-50 minutes. Turning the pan halfway through

Insert a toothpick or a sharp knife into the cake to test doneness. If it comes out clean the cake is
done baking.
Cool in the pan for 15 minutes then place a dish over the top of the pan and invert. Lift the pan
off the cake and allow it to cool.
Slice and serve
Leave a Comment
Donate to Cardinal Courier
Your donation will support the student journalists of St. John Fisher University. Your contribution will allow us to purchase equipment and cover our annual website hosting costs.