9/18: Fisher Students Take Part in Local 5k Aiming to Raise Awareness and Money For Drug Addiction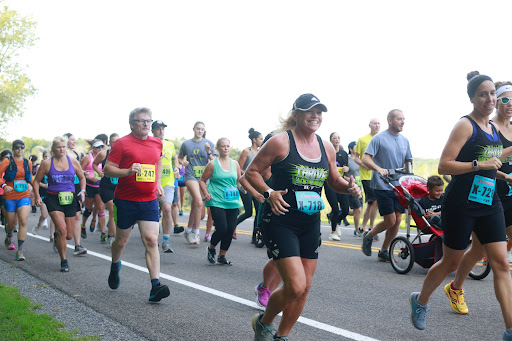 By Madison Weber '23, Social Media Manager and Staff Writer
September 22nd, 2022
The ROCovery Fitness 5k and X-Challenge took place at 9 am on Saturday, September 18th in Mendon Ponds Park. According to their website, the run/walk is a "celebration of fitness and recovery, and is an important fundraiser for this life-saving organization". Runners are able to complete the challenge on the road or a trail– and can even elect to have other obstacles thrown in their way. 
Organizers hope that the participation and support will help to raise awareness and provide support and hope for those and their families battling addiction in our community. The event also included several tables and booths with relevant information, resources, and organizations related to substance abuse in the area. As runners approached the finish line, they ran past photos and mementos of local individuals who lost the battle against addiction. 
ROCovery Fitness is a community and workout group focused on sober living and providing opportunities for sober experiences and groups for those recovering from drug or alcohol addiction. As a not-for-profit organization, they aim to "instill hope in the hopeless." They offer a variety of workout opportunities for all experience levels, peer recovery support, planned trips, social events, and more. 
Admission to substance abuse treatment centers is higher in Monroe county than in surrounding counties and the state as a whole. In terms of local admissions, 39% are related to alcohol, followed by heroin at 28%, marijuana and cocaine at 12%, and opioid drug use at 6%. Between 2007 and 2020, admissions for heroin use grew by 123% in Monroe County from 2,160 to 4,865.  
Jude Aman, a sophomore business management major, is involved with ROCovery Fitness and participated in the event. He is hopeful that this event and others like it will help raise awareness in the Rochester community. Aman said he got involved "just by showing up". "Everyone there was really friendly. They were ready to make connections and help you out." 
Aman mentioned the unspoken prevalence of substance abuse on college campuses and in the community as a whole.  With approximately 31% of college students reporting symptoms of alcohol abuse, this is a relevant issue to St. John Fisher University and college communities as a whole. 
Katelyn Dang, a nursing student, and senior, also took part in the race. Dang said she took part in the 5K "in support of people who are recovering from drug abuse and other substances. Just so they know that they do have people supporting them." She hoped that it creates a sense of belonging and community for all individuals– stressing that even if people haven't battled addiction in their own lives it is so important to be able to support others. 
In the end, 532 individuals took part in the event. Considering it costs runners around $35 to enter, it provides a significant amount of fundraising for the ROCovery Fitness team and its community. Students looking to get involved can find a calendar of events, volunteer applications, recovery resources, and more on their website here.
Leave a Comment
Donate to Cardinal Courier
Your donation will support the student journalists of St. John Fisher University. Your contribution will allow us to purchase equipment and cover our annual website hosting costs.